Hitting The MARC
Students Spend the Summer Conducting Original Research
August 3, 2010
By Russ L. Hudson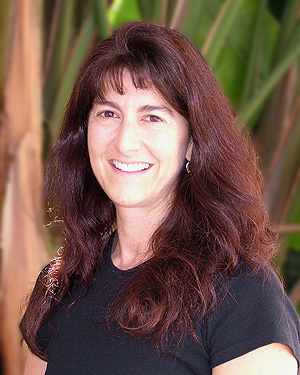 Amybeth Cohen, MARC director and associate professor of biological science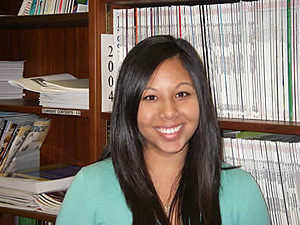 Adrienne Conant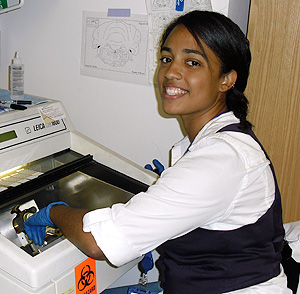 Ashley Watson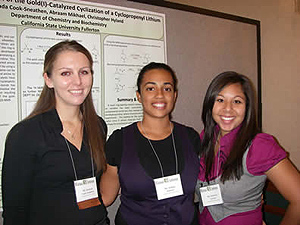 Amanda Cook-Sneathen (B.A. biological science '10), left, who completed her MARC program in May, and MARC Scholars Ashley Watson and Adrienne Conant took part in the 2009 Society for the Advancement of Chicanos and Native Americans conference.
This summer, six Cal State Fullerton students dove into research as wide-ranging as how the interactions of two neurotransmitters might relate to Parkinson's Disease and how a hormone affects social bonding.
The students toil as part of the Minority Access to Research Careers program — one of the science, technology, engineering and mathematics-related programs on campus. The math and science focus reflects Cal State Fullerton's heightened emphasis on increasing student interest in the STEM fields — one of seven universitywide initiatives for 2010-11.
Forty-six undergraduate students — including this year's participants — have entered the 14-year-old program. Past participants have gone on to advanced-degree programs or positions in industry or teaching. To learn more about the program and to see profiles of former students who have gone through the program, go to "Reaching for Research."
MARC's efforts are supported by a five-year, $1.2 million National Institutes of Health grant and a two-year, $64,000 American Recovery and Reinvestment Act grant.
"MARC scholars must perform real research under strict scientific standards, and they must present their work to other scientists the same way. They are mentored by two-dozen-plus enthusiastic faculty in the departments of biological science, chemistry and biochemistry, computer science, engineering and psychology. When they finish their two years in MARC, they are scientists ready for graduate school," said Amybeth Cohen, MARC director and professor of biological science.
This summer's class of MARC Scholars include:
Macarena Aloi of Rancho Santa Margarita, a senior biological science major, works in Cohen's lab studying an ancient one-celled photosynthetic organism, Chlamydomonas reinhardtii.
Adrienne Conant of Fullerton, senior psychology major, studies the motor and neurological aspects of how decisions are made with Jennifer Trevitt, assistant professor of psychology.
Jennifer Makhlouf of Fullerton, a junior biochemistry major, is investigating a gene that allows energy storage by Thermatoga maritina, a bacteria that thrives in hot sediments on the ocean floor. Makhlouf works in the lab of Christopher Meyer, professor of chemistry and biochemistry.
Joshua Pando of Fullerton, a senior psychology major also working with Trevitt, is trying to define the relationship between two neurotransmitters, adenosine and acetylcholine, and how they affect the brain's basal ganglia, a sort of decision-making center.
Erin Steelman of Mission Viejo is a senior psychology major working with Iris Blandin-Gitlin, assistant professor of psychology, to determine the hormone oxytocin's role in accurately recognizing faces.
Ashley Watson of Fullerton, a senior psychology major, is working with Larry Young, a psychology professor at Emory University in Georgia, on the role of the hormone oxytocin in social bonding.
Media Contacts:
Amybeth Cohen, 657-278-2178 or acohen@fullerton.edu
Russ L. Hudson, 657-278-4007 or rhudson@fullerton.edu