Wildlife Sanctuary Evacuated
Tucker Staff Assists in Evacuating 66 Elementary Students, Then Wait for Rain to Abate Before They Can Get Out of Harm's Way
May 27, 2008
By Russ Hudson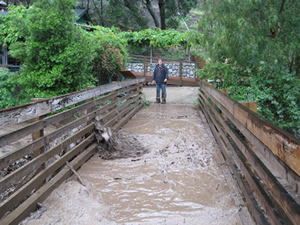 Marcella Gilchrist stops at one end of the bridge that crosses the stream between her home, in the background, during the May 22 flash flood, and the rest of the Sanctuary grounds. The bridge is normally a few feet above the streambed with a trickle of water passing beneath.
Tours and other activities returned to normal this week after last week's flash flood brought water, mud and debris bearing down on Cal State Fullerton's Tucker Wildlife Sanctuary. A Thursday, May 22 thunderstorm struck the area and the staff had to evacuate 66 elementary students from San Juan Capistrano's St. Margaret Episcopal Church out of the canyon.
The nearly dry Santiago Creek quickly turned into a torrent high enough to run over the bridge at the sanctuary that was at least six feet above the stream bed, said Tucker on-site manager Marcella Gilchrist, who, with her staff, got the children onto their bus and out of the area before the water and mud could block the road.
Staff, as well as Crackers the opossum and Henry the 68-year-old tortoise, had to wait until a lull in the storm allowed water across the road to drop before they were able to evacuate.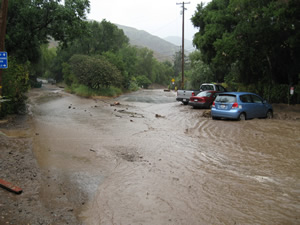 The water from the stream and the mud from nearby Harding Truck Trail made the Tucker parking lot temporarily impassable. Tucker staff had to wait until the level dropped during a lull in the storm to be able to leave.
"We were pretty heavily impacted by the mudflow coming down the mountains via Harding Truck Trail, too," said Karon Cornell, Tucker director, the day after the flood. "It came right through our front gate and spread over the sanctuary until it hit the creek on the other side."
Crackers and Henry are back home and educational tours for students are back to normal this week, said Mark Mendez, part-time on-site naturalist.
"We've cleaned up the concrete paths and gotten most of the mud out of the streets. That last part was with the help of the county," he said. "We can walk a little way up Harding. But there was some undermining of the foundation of the bridge and the two turtle ponds we just finished renovating are now filled with mud and debris. We'll probably have to empty them and re-do them from scratch."
For recorded updates and other information on the Modjeska Canyon facility, call 714-649-2760.