Travels With Tinkerbell
Biological Science Major Rescues Lost Dog During Commencement
May 22, 2008
By Paula Selleck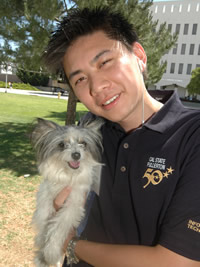 Biological science major Robert Tran with Tinkerbell.
Tinkerbell is back at home after her "excellent adventure" to the university's 2008 Commencement ceremonies Sunday.
What started as a weekend frolic for the almost-3-year-old Maltichi (Maltese-Chihuahua mix), who spends most of her days indoors, became a rescue-and-search mission for biological science major Robert Tran, who works in the President's Office as a student assistant.
Tiny Tinkerbell was spotted unattended on the university's athletics fields Sunday morning, amid the more than 35,000 gathered there for pomp and circumstance. Apparently, the 6-pound pooch wanted to join the celebration.
When Tran attempted to scoop her up, she scampered away, and a merry chase ensued — all the way to the Fullerton Creek at State College and Yorba Linda boulevards.
For most of that day, Tran drove around in a passenger cart with the friendly Tinkerbell at his side. Between performing errands for the President's Office and pausing for water breaks, Tran passed the word about the dog, in hopes of finding her owner.
The McCaffertys and their wayward dog Tinkerbell.
Though she had no collar, Tran could tell that she was well cared for. "This dog belongs to someone," he told University Police officer Iris Cortes-Valle. "We need to find the owner."
While Tran was making his rounds, conferring with University Police, Public Affairs and commencement staff members, the dog's owners, Stephanie and Mark McCafferty, who live between Fullerton College and CSUF, were on their way back from a trip to Palm Springs. They headed home early when they heard their dog was missing.
Tinkerbell had been left with a roommate, who had inadvertently left the home's back slider open. McCafferty surmises that Tinkerbell heard the neighbor kids playing next door and went outside to join them, or to find his usual playmates, the McCaffertys' sons, Timothy, 10, and Jacob, 12.
"She loves to be the center of attention," he said.
Once back at home, the McCaffertys posted fliers and posters in and around their neighborhood and conducted a search.
"We drove up and down State College and Nutwood," McCafferty recalled, but didn't imagine Tinkerbell might be on campus checking out the festivities.
Sunday night, Tran took Tinkerbell home, where she played with his cat, and the next morning, they visited a veterinarian to check for a microchip, but none was found.
"I had a list of 25 volunteers willing to take her if the owners couldn't be found," he said. Monday afternoon, Tran was interviewed by the Orange County Register for a story about the lost dog that appeared on the newspaper's website.
That night on her way home from work, Cathy Parra, confidential administrative secretary in the Office of University Counsel, noticed the McCaffertys' posters near Troy and Rosary high schools and recalled the "lost dog" message she'd seen on the university's Web site. She'd met Tinkerbell during Tran's rounds, so called to alert Tran that the pooch he had rescued might be the missing dog in the McCafferty household.
After a phone call screening and a review of photos sent by the McCaffertys, a reunion was arranged.
"It was a beautiful moment seeing the dog reunited with her family," said Tran, who snapped a photo as a keepsake. "When Tinkerbell spotted them, her tail wagged so fast she could have flown."
The McCaffertys, in turn, are grateful Tinkerbell met up with a prince.