Ting-Toomey Wins University's Top Faculty Honor
Authority in Intercultural Communication Named Outstanding Professor
April 25, 2008
By Pamela McLaren
To students, colleagues and international associates alike, there is only one word to describe Stella Ting-Toomey: Exceptional.
For that reason, the Cal State Fullerton professor of human communication studies and authority in the field of intercultural communication, cross-cultural conflict management and intercultural identity competence, is this year's recipient of the university's highest faculty honor, the Outstanding Professor Award.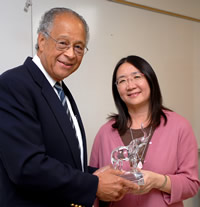 President Milton A. Gordon presents an engraved crystal elephant to Stella Ting-Toomey. Photo by Kelly Lacefield
"In the classroom, she makes learning fun and enjoyable. Many times, my cohorts and I come away from Dr. Ting-Toomey's class with an appetite for more," noted Jean Hotta, an international student adviser on campus, as well as a graduate student pursuing a degree in human communication studies. "This is how learning should be — challenging students to think broadly and creatively, encouraging us to go beyond our comfort zones, and yet reminding us to be mindful of different viewpoints. ...She is an excellent instructor, trainer and mentor."
"Stella is an internationally renowned scholar who takes much of her time to mentor undergraduate and graduate students; she is a master theoretician who patiently works with graduate students so that they might enjoy their first conference presentation or publication; she is a valued colleague who is selfless with her time and energy; she is a good friend," said K. Jeanine Congalton, associate professor of human communication studies.
"Dr. Ting-Toomey possesses a very important trait for a mentor: selfless advancement of the academic pursuits of those that she mentors. With her guidance and collaboration, I have had the opportunity to publish sever academic articles, book chapters and make conference presentations," said Angela K. Hoppe-Nagao, chair and professor of speech communication, Cerritos Community College District, who had Ting-Toomey as a teacher and as thesis adviser at CSUF.
"One of her most unique strengths is her gentleness that invites students to her counsel," reported S. Irene Matz, assistant professor of human communication studies. She "is much more interested in students' exquisite attention to the unfolding class discussions and emergent lectures and their own readings that enhances topics."
"She was the consummate professional leading me through the highs and lows — the bumps and bruises of the entire thesis process from beginning to end," remembered Kimberlie K. Yee-Jung, a 1994 graduate who switched colleges to take courses from Ting-Toomey. "Stella is not one who chases the limelight. In fact, Stella is often quietly maneuvering in the background to help others achieve experience and recognition."
Yet, April 23, Ting-Toomey was in the limelight as Cal State Fullerton President Milton A. Gordon and a host of dignitaries made a surprise visit to her "Intercultural Conflict: Theory and Practice" evening class to announce her latest honor. Balloons and a crystal elephant were handed to the stunned honoree as Gordon sang her praises.
Gordon cited her numerous career achievements, including her collaborative efforts with fellow faculty members on campus and around the world, as well as with her students. He also teased Ting-Toomey about her many international travels. The mood was light as Gordon told the students that their professor had been honored just a couple of weeks earlier — with the California State University's Wang Award. He stressed how fortunate the class is to have Ting-Toomey as their teacher — a sentiment they heartily applauded as the professor's fellow faculty members reached out to hug her.
"We knew she was great, but when you review her achievements, you see that she is not only great here but in the global community," said Rick Pullen, dean of the College of Communications. "She has enriched the lives of students, spawned careers and stimulated the world to take notice of the contributions made at the California State University."
John Reinard, chair and professor of human communication studies, wholeheartedly agreed. "It is a real honor, well-deserved. You are truly outstanding," he told Ting-Toomey.
"I'm so speechless ... I'm stunned, overwhelmed, humbled and honored," Ting-Toomey told those gathered. She thanked the university, the Outstanding Professor Committee, her department associates, staff members, dean and department chair. "There are so many dedicated and remarkable faculty on campus, " she said. "More importantly, I really want to thank the engaging students, who are all so willing to stretch and use their infinite imagination on this learning journey ... You are all so very precious to me."
Ting-Toomey has established two new theories on managing intercultural conflict mindfully and crossing cultural boundaries effectively, with implications for such fields as international diplomacy, international hostage negotiation and international management. The two theories are known as conflict face-negotiation and identity negotiation.
"Ting-Toomey's theory has been of utmost relevance and support for my work," noted Manuela Guilherme, senior researcher and international project coordinator at the Universidade de Coimbra in Portugal. "Ting-Toomey's work has not only had an impact across national borders, but also across disciplinary borders."
"Through her work in the interpersonal/intercultural communication area, she has been a change agent who is truly devoted to making our world a better place and to help build a world of true intercultural understanding and peace," said Toya A. Wyatt, CSUF associate professor of human communication studies.
Ting-Toomey has authored, co-authored, edited or co-edited 17 books — 12 since joining the faculty at Cal State Fullerton in 1989.
"Not only has she been prolific in her writing, but she brought a non-western perspective to her research that helped transform the way we think about culture and communication. Additionally, her research opened the door for many others to write about communication phenomena from a variety of orientations," said Benjamin Broome, professor of human communication at Arizona State University.
She is "one of the top three scholars in intercultural communication," said Linda L. Putnam, professor of communication at UC Santa Barbara. Of her publications, one recent contribution "reflects her depth and breadth of knowledge about communication and conflict," Putnam noted, citing Ting-Toomey's Handbook of Conflict and Communications. "No other book in our field has the breadth and sophistication of this volume."
As an example of her scholarship and collaborative support for students, seven of her books were co-authored with her students. Of 79 book chapters and journal articles, 30 were student co-authored, as was more than one-third of 65 peer-reviewed research papers she has presented at national and international seminars and conferences.
"Dr. Ting-Toomey exemplifies the perfect professor... a consummate scholar, an excellent classroom teacher who gives back to her department, college, the university and the community. We are fortunate that she is a member of our faculty," wrote Pullen in nominating her for the top faculty honor.
"Stella's personal story of an immigrant's struggle and triumph over adversity, cruel stereotypes and great challenges has inspired a generation of her students who now dedicate their energies to defining the theory and research in the field of intercultural communication," said Reinard.
Globally, Ting-Toomey has been an active representative of her research field and Cal State Fullerton. Last year, she gave plenary addresses at Nelson Mandela Metropolitan University in South Africa for the Conference of the International Education Association of South Africa. In 2006, Ting-Toomey represented the CSU as keynote speaker at the European Union's Intercultural Competence for Professional Mobility Conference in Lisbon, Portugal; at the Nagoya University Graduate School of Education and Human Development; Rikkyo University Graduate School of Intercultural Communication; and at the Global Leadership Conference in Shanghai, China.
She serves on the steering committee of the African Cross-Cultural Communication and International Management Collaborative Research Project, combining research efforts from the CSU, Nüertingen-Geislingen University and Nelson Mandela Metropolitan University — both Cal State Fullerton partnership universities — in conjunction with Rhodes University, University of Mississippi and University of New Mexico.
"She is, quite simply put, our seal of approval," said Richard G. Wilcox, director of international programs and professor of international management at Nürtingen University. "Stella is a very helpful and reliable colleague and friend, always caring and supportive, fun to be with and generally, a very decent and kind person."
"Dr. Stella Ting-Toomey is a talented professor, facilitator and trainer, as well as a special person who is making a difference in the world," wrote Rusty Kennedy, executive director of the Orange County Human Relations Commission. Ting-Toomey has partnered with the Orange County organization, providing intercultural and diversity competence training and advisory board service. She is a resident of Fullerton.
As the 2007-08 Outstanding Professor Award recipient, Ting-Toomey will be recognized at the university's May 16 Honors Convocation and carry the mace to lead the faculty at the May 17 and 18 commencement ceremonies. She will receive a $4,000 cash award from the President's Associates and will present a public lecture next spring.
Zvi Drezner, professor of information systems and decision sciences and the recipient of the 2005-06 Outstanding Professor Award, chaired the Outstanding Professor Selection Committee.