Religious Scholar Dies
Cal State Fullerton Emeritus Professor Saint-Laurent 'Radiated Kindness and Optimism'
April 29, 2008
By Mimi Ko Cruz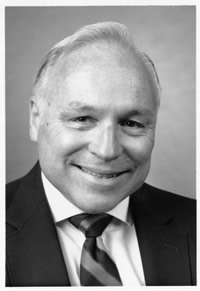 George Saint-Laurent
George E. Saint-Laurent, emeritus professor of comparative religion, died April 24 of a massive stroke. He was 75.
His funeral was held April 26 at St. Nicholas Roman Catholic Church in Laguna Woods, where he lived.
"I knew George since he first came to the Department of Religious Studies [now Comparative Religion] as a part-time instructor in the early 1970s and found him to be outgoing and friendly to all who came in contact with him," said James A. Santucci, chair and professor of comparative religion. "From the very beginning, he demonstrated that he was an outstanding instructor, gaining admiration from his students for the breadth of his knowledge and the clarity with which he presented the material. Although an expert on Christianity, George taught a number of courses outside his area, including linguistics and Greek. His work ethic and the degree of preparation that he devoted to each of his classes were truly admirable. His reputation as a master teacher spread well beyond his department and continued throughout his career at Cal State Fullerton and beyond."
Another colleague, Benjamin Hubbard, emeritus professor of comparative religion, called Saint-Laurent a "superb and dedicated teacher, who inspired his colleagues and radiated kindness and optimism."
Saint-Laurent, author of "Catholic Spirituality in Focus: Eight Themes of Mind and Heart" and "Spirituality and World Religions: A Comparative Introduction," was a frequent speaker at community events. His talks focused on understanding the spiritual vision that produces inspiring leadership, the values and virtues that create persuasive and moral leadership and the process of growth toward personal integrity.
Saint-Laurent, who was born in Boston, earned his bachelor's degree in philosophy from St. Paul's College in Washington, D.C., in 1955; his master's degree in religion from St. Paul's College in 1956; and his doctorate in sacred theology from the Catholic University of America in 1968. He conducted research in peace studies at Boston College in 1984 and participated in a series of summer institutes sponsored by the National Endowment for the Humanities during th 1970s and '80s at Harvard, Yale, UCLA and the University of Notre Dame.
He joined Cal State Fullerton's faculty in 1975, won a merit award for superior teaching in 1986 and served as chair of the then-Religious Studies Department in the early 1990s. He was a member of the Academic Senate for 10 years.
In his 1997 letter to Saint-Laurent conferring emeritus status, President Milton A. Gordon wrote: "Over the years, you have earned a reputation as a gifted teacher and a wise and caring adviser."
In 1998, Saint-Laurent became a founding member of the advisory board for the university's Guardian Scholars program, which assists youth who are exiting the foster care system and striving to earn a college degree.
"He really, really believed in the Guardian Scholars program," Saint-Laurent's wife, Michaeleen Saint-Laurent, said about her husband. "He often said the best way to deal with poverty is through education. He once made the comment that he felt God's blessings when he was teaching in the classroom. Whenever he prepared to teach a new class, he would look at the group and tell himself, 'I love these students.' Teaching wasn't about him, it was about them and their road to become what they really were meant to be."
In a 2001 Desert Post Weekly article, Saint-Laurent said: "I have always been interested in religions as a hobby and as a personal commitment. Religions are inexhaustible in their depth and applications. You never reach the end when you study religion. There is always something new to discover. ... Our culture says to look out for No. 1. Religious wisdom says to put yourself at the end of the line. It is better to give than receive. The credibility of these religious wisdoms lies in the fact that they have endured through all types of criticisms for so many years. In spite of those criticisms, thousands find these truths help them. These truths resonate in their hearts and bring more joyous and successful life."
Saint-Laurent, survived by his wife and daughters, Marie Louise Dickey and Jeanne Nicole Saint-Laurent, lived what he taught and will be remembered with much affection, Santucci said.
Donations in Saint-Laurent's memory can be made to the university's Guardian Scholars Program, c/o CSUF Philanthropic Foundation, 2600 E. Nutwood Ave., Suite 850, Fullerton, CA 92831.