Achieving Educational Goals
Assistant Dean, Other Staff Members Earn Degrees
June 10, 2008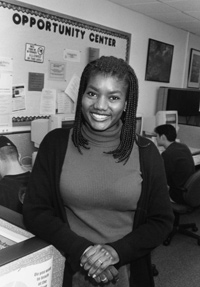 Rochelle Woods
Rochelle Woods, assistant dean of the College of Natural Sciences and Mathematics and eight-year employee of the university, was honored at the May 30 Staff Recognition and Appreciation Day for completing a doctor of education degree at USC.
How she reached that degree was still fresh in her mind, and her memories will resonate with the others who were honored that day.
"Basically, for three years I was always studying or working," Woods said. "When I took a vacation, it was to read or to write a paper. Holidays were spent in libraries.
"With all of that, there was still shopping to do, laundry to wash … I became really good at multitasking out of sheer necessity. My mom, my dad, my three sisters were all behind me. It helped me to get through those times of self-reflection when I was wondering if I was doing the right thing and, even if I was, could I finish it?
"But here I am."
Other staff members who earned degrees earned this year:
Genevieve Arrey, Admissions and Records
M.P.A.- human resources, Cal State Fullerton
Rosalind Blackstar, University Extended Education
B.A. liberal studies-social welfare, Cal State Fullerton
Jackie Blyleven, Student Health and Counseling
M.P.H., Cal State Fullerton
Elizabeth Buchanan, Disabled Student Services
B.A. American studies, Cal State Fullerton
Heather Calkins, Student Health and Counseling Center
MS. kinesiology-sports psychology, Cal State Fullerton
Trish Campbell, Pollak Library
B.A. anthropology, Cal State Fullerton
Melissa Cohea, University Advancement
M.P.A., Cal State Long Beach
Jennifer Cunningham, Career Center
M.S. counseling, Cal State Fullerton
Joseph Hackbarth, Admissions and Records
M.S. information systems, Cal State Fullerton
Heather Honnen, Elementary and Bilingual Education
B.S. human development-counseling, Hope International University
Shannon Matthews, Disabled Student Services
B.A. English, Cal State Fullerton
Diane Mazzey, Mihaylo College of Business & Economics
B.A. criminal justice, Cal State Fullerton
Patti McCarthy, Physics
B.A. music, Cal State Fullerton
Mony Nhong, Information Technology
M.S. computer science, Cal State Fullerton
Michelle Swadish, Administration and Finance
B.A. anthropology, Cal State Fullerton
Judy Su, Finance
M.S. reading, Cal State Fullerton