Recruiting Recognition
Military Science Professor To Receive Officer of the Year Award
July 8, 2008
By Mimi Ko Cruz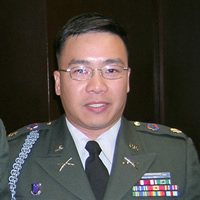 Major Robert H. Medina
Major Robert H. Medina, who heads recruitment efforts for Cal State Fullerton's Army ROTC program, has been named Recruiting Officer of the Year.
The recognition is part of the Army's Cadet Command 2008 Awards of Excellence. Medina was chosen from more than 280 other recruiting officers nationwide. His successful recruiting efforts were cited, and he will be receiving the award later this summer.
"This is a testament to our team at Cal State Fullerton," said the assistant professor of military science.
The Costa Mesa resident knows firsthand what cadets get out of Cal State Fullerton's Army ROTC program and enthusiastically promotes it. He enrolled in the campus program and California Army National Guard as a Cal State Fullerton student in 1990.
"I have grown tremendously as a human being by being a professional military officer," Medina said. "I've gained important and very marketable skills I can use after the military and I've had a chance to make a positive difference in the lives of hundreds of great Americans and their families."
Born in the Philippines, Medina immigrated to the United States with his mother in 1981. He received his commission as a second lieutenant in the Army through the university's ROTC program and graduated with a master's degree in history in 1996. He earned his bachelor's degree in history in 1993.
Medina served as a rifle platoon leader and executive officer in Korea until 1998, when he returned to California to serve in the 11th Armored Cavalry Regiment as an opposing forces platoon leader, deputy chief of protocol and squadron assistant operations officer. Promoted to captain in 2000, Medina took command of the Newport Beach Recruiting Company in 2002.
He was assigned to his current campus position in 2004, and promoted to major in 2006.
"Serving in the military is a noble cause and well worth looking into," Medina tells his recruits.
The campus ROTC program marks 25 years on campus this year with its largest number of cadets — 110 as of spring 2008, Medina said. There were 25 cadets in 1983 and 50 in 2000. Four years later, the number of cadets had grown to 58 and in 2007, cadets had increased to 92.
"The numerous cadets in the program are here because of the opportunities to become leaders in the military and they are willing to accept the various challenges that lie ahead," Medina said.
He joined the Army, "in part because I always admired the U.S. Army and its role in the development of the Philippines as an American commonwealth, the U.S. Army's role during the Philippine defense during 1941-42 and the country's liberation and the eventual granting of Philippine independence in 1946," Medina said.