Campus Honors Retiring Faculty, Staff Members
Twelve Recognized for 30 or More Years of Service
June 10, 2008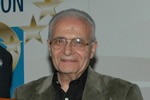 George Giacumakis
Cal State Fullerton recognized retiring faculty and staff members for their years of service during a special retirement dinner hosted this month by President Milton A. Gordon at El Dorado Ranch.
Among the campus members feted were George Giacumakis, director of the Cal State Fullerton Irvine Campus; Pamela McLain, manager of the College of the Arts box office; and Patricia Bril, electronic collections librarian in the Pollak Library. All three have served for 37 years.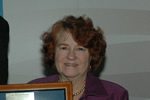 Pamela McLain
Giacumakis joined the university in 1963 as a professor of history and taught on campus 15 years. He left the university to serve as president and executive director of the Institute of Holy Land Studies in Jerusalem, returing in 1985. In 1987, he began overseeing the university's south county center, first Mission Viejo at Saddleback College and then the Irvine Campus on the former El Toro Marine Base.
McLain became a member of the box office staff while a graduate student working on a master's degree in theatre arts. She had already earned a bachelor's degree in drama in 1969. Since those first days when tickets were printed, McLain oversaw a ticket system that became computerized with tickets available through the Internet. She retired in October.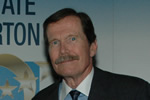 Michael Ames
During her tenure on campus, Patricia Bril has served on numerous committees and been a member of the Academic Senate. In 1999, Bril attended the first-ever Association of College and Research Libraries/Harvard Leadership Institute. She will continue to serve through June 6.
Other 30-plus year honorees were Robert J. Navarro, irrigation specialist in Physical Plant, and Jacob Pandian, professor of anthropology, both for 35 years; Russell A. Romain, lecturer in communications, and Lloyd R. Hines, instructional support technician in Environmental Health and Instructional Safety, for 33 years; and Myralene Shields, administrative support assistant in Marketing, 32 years. Recognized for 31 years were Michael Ames, professor of management; David R. Fromson, associate dean of the College of Natural Sciences and Mathematics; and Geraldine Harrison, associate librarian. Alfred Molina, a lieutenant in University Police, retired in July after 30 years.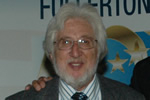 David R. Fromson
Also honored were: Natalie Allen, Chemistry and Biochemistry; Ron Ambrosis of Physical Plant; Judith Anderson, Executive Vice President; Margaret Atwell, Academic Affairs; Dennis Berg, Sociology; Soad Boulos, Admissions and Records; Jeni Cansler and Burklyn Casey, both Information Technology; Charan D. Chopra, University Extended Education; Duane L. Clizbe, Secondary Education; Eileen Cowin, Art; and Hugh R. Dana, Student Health and Counseling Center.
Recognized were: Alice J. Escoto, Environmental Health and Instructional Safety; Ron C. Featheringill, Business Writing; Albert W. Flores, Philosophy; Maria C. Flores, Chemistry and Biochemistry; Phillip Gianos, Politics, Administration and Justice; C. Scott Greene, Marketing; George E. Horton, Athletics; Janelle H. Hudson, Humanities and Social Sciences; Larry B. Huribet, Physical Plant, Mike H. Kassoy, Physical Plant; Donald Lagerberg, Art; Michelle Y. Lau, Physical Plant; Richard M. Lodyga, Science Education; and Rodrigo I. Lois, Biological Science.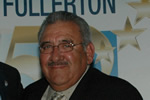 Alfred Molina
Among the honorees were: George A. Marcoulides, Information Systems and Decision Sciences; Lori Miller, Communications; Mary Montoya, Physical Plant; Dolly Naura, Dean of Students; Tuyet-Lan T. Nguyen, Student Health and Counseling; Moira T. Obermeyer, English, Comparative Literature and Linguistics; Patrick B. O'Donnell, Public Affairs, Susan Parman, Anthropology; Carmen Peak, Contracts and Procurement; Helen Pontius, Student Health and Counseling Center; Nancy Porras-Hein, Chicana and Chicano Studies; and Erlinda D. Rodriquez, Admissions and Records.
In addition: Mufid F. Samara, Civil and Environmental Engineering; Beth E. Schipper, Elementary and Bilingual Education; Kenna Schoenherr, Environmental Health and Instructional Safety; Hasan Sehitoglu, Mechanical Engineering, Eileen Simkin, Chemistry and Biochemistry; Ram Singhania, Information Systems and Decision Sciences; Xiongnian Su, Classroom Technology Support; and Patricia A. Szeszulski, Child and Adolescent Studies.
Also, Margaret Tsui, Admissions and Records; Son Kim Vo, Intercultural Development Center; Darlene Warner-Zivich, University Advancement/Arts; Jan Weiner, Special Education; Carole R. Wilson, Human Resources; Nancee Wright, Health and Human Development; Robert A. Young, Graduate Studies and Research; and Robert Zepeda, Information Technology.