Business and Community Leaders, Alumni Take the Podium
'All Campus Professor for a Day' March 18
March 10, 2008
By Pamela McLaren
Lighting and scene designers, CEOs and presidents, city council members, engineers, scientists, nurses and teachers — representatives of the wide range of careers and opportunities available to those who complete their college degrees — will be up front and center stage in classrooms throughout Cal State Fullerton during "All Campus Professors for a Day" March 18.
"This event gives our students the opportunity to interact with those who are out in the field and to find out just what it takes to be successful," said Ephraim Smith, vice president for academic affairs. "Many of these individuals are our alumni and serve as role models for our students. The opportunity to hear of their experiences expands the classroom experience and helps our students develop their career choices."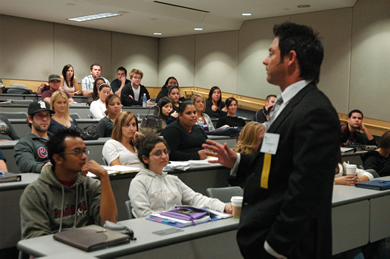 Students listen attentively as alumnus Boris Bugarski, president and chief executive officer of mUrgent Corp., shares his experiences as part of the College of Business and Economics Professor for a Day activities in November. Bugarski, a 1997 graduate, is among alumni and other business and community leaders who are taking part in the All Campus Professor for a Day March 18. Photos courtesy of the College of Business and Economics
KNBC Orange County Bureau Chief Vikki Vargas (B.A. communications '81), honorary chair of the university's 50th anniversary committee, is among the approximately 100 participants taking part in the daylong festivities. Guests include:

COLLEGE OF THE ARTS:
John Cahoon, 3D artist, Nickelodeon
Anne Cecere, associate director, BMI
Kelly Ruggirello, president, Pacific Chorale
MIHAYLO COLLEGE OF BUSINESS:
Richard Ambrose (B.A. business administration-accounting '82), president, Standard Pacific Mortgage Inc.
Yolanda De La Paz, senior vice president, First Regional Bank, Anaheim
MaryLouise Hlavac (B.A. business administration-accounting '80), senior manager, Integrated Defense Systems, Boeing
COLLEGE OF COMMUNICATIONS:
Chris Abrego, executive producer and co-founder, 51 Minds Entertainment LLC
Christopher J. Giglio (B.A. speech communication '00), associate vice president, Grubb & Ellis, Anaheim
Jennifer Horspool (B.A. communications-public relations '93), marketing communications director, American Cancer Society
COLLEGE OF EDUCATION:
Ann Coil (M.S. education-reading '75), president, Coil & Associates, Santa Ana
Rachelle Cracchiolo (B.A. psychology '71, M.S. education '76), president, Teacher Created Materials
Frances K. Krausman (B.A. American studies '75, M.S. education '88), retired science teacher, Fullerton School District
COLLEGE OF ENGINEERING AND COMPUTER SCIENCE:
Janet Bratton (B.A. mathematics '88), senior manager, and Laurie Haack (B.S. computer science '79, M.S. software engineering '06), senior principal software engineer, Raytheon Co.
Peter Fiacco (M.S. engineering-electrical '91), vice president, ASIC Engineering, Emulex
COLLEGE OF HEALTH AND HUMAN DEVELOPMENT:
Karen Munoz (B.S. nursing '92), director, community nursing, Orange County Health Care Agency
Miguel Pedroza (B.S. kinesiology '98), physician, Ventura County Medical Center
Alysia Ransons, program manager, Health Education, Planned Parenthood
COLLEGE OF HUMANITIES AND SOCIAL SCIENCES:
Margaret M. McCarthy (B.A. political science-public administration '84), owner, Paradigm Ventures LLC
Cheryl Meronk (M.S. gerontology '04), CEO, Orange County Council on Aging
Lucia Santana (B.A. criminal justice '95), executive director, Girl's Inc. of Orange County
COLLEGE OF NATURAL SCIENCES AND MATHEMATICS
Mayssa Attar, senior scientist, Allergan
Charles Malon, research scientist, Jet Propulsion Laboratory
Matt Miyasato, technology demonstration manager, Science and technology advancement, South Coast Air Quality Management District
Guest professors will be speaking throughout the day kicking off as early as 8:30 a.m. and continuing until approximately 6 p.m. A luncheon in their honor will be held from 11:30 a.m. to 12:45 in Portola Pavilion of the Titan Student Union.