New Center Bolsters Quality, Student Learning
Teachers Pursuing National Board Certification Get Support, Guidance
October 21, 2008
By Debra Cano Ramos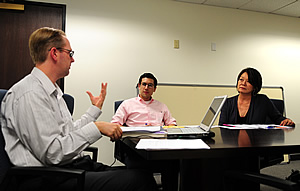 Mark Ellis, assistant professor of secondary education, left, talks with John Bautista and Jackie Counts, both national board-certified teachers from Anaheim Union High School District, about the university's new Professional Teaching Development Center. Bautista and Counts are among local educators who will provide support and guidance to local teachers wishing to pursue the national board certification through the new center. Photo by Kelly Lacefield
Mark Ellis, assistant professor of secondary education, knows the value of teachers earning national board certification — the teaching profession's highest standard.
Ellis, a former middle school math teacher who now oversees Cal State Fullerton's Foundational Level Mathematics program, met the rigorous professional standards nine years ago to earn the certification in early adolescent mathematics.
Now, Ellis has stepped into the role of director of the College of Education's new Professional Teaching Development Center, which will provide support and other assistance to local teachers wishing to pursue the national board certification.
As part of an effort to provide quality education for California's students, the Virginia-based National Board for Professional Teaching Standards selected the university as a Professional Teaching Development Center.
"Cal State Fullerton's support of national board certification reflects our commitment to impacting PreK-12 teaching in area schools and fits well with our role as the largest nationally-accredited teacher preparation institution in Orange County," Ellis said. "Having an NBPTS Professional Teaching Development Center within our College of Education signals both our support of meaningful professional development for teachers and our effort to network with accomplished teachers to get them involved with our academic programs."
Cal State Fullerton was among four California universities and one county office of education to be selected as a NBPTS center. The NBPTS received funding for the centers from the Stuart Foundation, which works to improve opportunities for children and youth to become self-reliant, responsible and contributing members of their communities.
"Through this center, our goals are to support the professional development of accomplished teachers, strengthen teaching and student learning in local classrooms, and help school districts recognize the value of teachers achieving national certification," Ellis explained.
"By having this center on campus, it gives Cal State Fullerton the ability to generate greater awareness about national board certification among local teachers, administrators and stakeholders in education."
The university is expected to receive about $177,000 in grant funding over a three-year period for its center, Ellis said. The grant monies will pay for costs associated with providing extensive support for national board teacher candidates, outreach activities at schools and scholarships to help with the costs for teachers wishing to pursue the certification, Ellis added.
Additionally, to offset costs, teachers also can apply for a state subsidy and may be eligible to receive an NBPTS incentive award if they earn national board certification and teach in high-need schools.
Carol Saldana, an eighth grade algebra teacher working on her master's in education on campus, said having the new center incited her to pursue national board certification.
"Even though it is a hard, long process, I know that going through this process will make me a better teacher," said Saldana, who lives in Anaheim and teaches in Pomona.
"The biggest thing holding me back from initially jumping head first was the cost," added Saldana, who plans to apply for a scholarship to offset the expense. "It became an easier choice for me to pursue this certification because I know that I will have support and guidance from Cal State Fullerton."
Saldana earned a bachelor's degree in child and adolescent studies in 2002 and a year later the multiple subject teacher credential program from Cal State Fullerton. She plans to complete the master's program, with an emphasis in middle school mathematics, this spring.
Nearly 40 teachers from schools in and around Orange County will pursue national board certification and receive support through the new center, Ellis said. Currently, there are more than 100 national board certified teachers in Orange County schools, he added.
As part of the voluntary assessment program, which takes from one to three years, teachers build a portfolio that includes student work samples, assignments, video recordings and a thorough analysis of their classroom teaching. Teachers also are assessed on their knowledge of subjects they teach.
For more information about the Professional Teaching Development Center, visit http://ed.fullerton.edu/ptdc. To learn more about NBPTS and national board certification, visit www.nbpts.org.
California's Professional Teaching Development Centers
Other sites chosen as Professional Teaching Development Centers are: California State University, Northridge; National University; University of California, Los Angeles; and San Joaquin County Office of Education.
The primary goal of the National Board for Professional Teaching Standards' initiative is to increase the number of national board certified teachers working in low-performing schools, with an emphasis on schools receiving Quality Education Investment Act funding, according to the NBPTS.
These centers will provide support for teachers interested in enrolling in "Take One!" — a unique offering from NBPTS that can be used as stand-alone professional development by any educator and by licensed teachers as an initial step in becoming candidates for national board certification.
There are nearly 3,900 national board certified teachers in California who have met certificational standards through intensive study, expert evaluation, self-assessment and peer review. Nearly 100 California school districts recognize national board certification as a mark of distinction, similar to the way the medical and accounting professions recognize expertise.
The National Research Council of the National Academies found that students taught by national board certified teachers make higher gains on achievement tests than those taught by teachers who have not applied or did not achieve certification. The Congressionally mandated report also found that national board certification has a positive impact on teacher retention and professional development.