Native American Powwow April 19
Community Event Features Traditional Dancers, Drummers, Food and Arts and Crafts
April 15, 2008
By Debra Cano Ramos
Campus and community members are invited to the annual spring "Powwow" featuring ceremonial drum beats and the colorful sight of Native American dancers April 19 at Cal State Fullerton.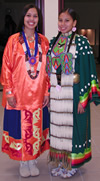 The free 11 a.m. to 10 p.m. festivities will include food and arts and crafts, and is sponsored by the university's Inter-Tribal Student Council in celebration of Native American cultures.
Activities will be held on the lawn adjacent to the Engineering and Computer Science Complex.
"The purpose of the powwow is to present Native American heritage to the university's students and local community, as well as to increase awareness of Native American culture and the diversity of the people," said Rosalina Camacho, adviser for the Inter-Tribal Student Council.
"Being apart of Inter-Tribal Student Council gives students a safe haven to embrace our unique culture and collaborate with other students to bring awareness of Native American urban culture," said Anna Tiger, council president and psychology major.
During the afternoon, members of participating tribes will perform traditional dances, dressed in their own regalia. Dancers also will compete for prize money and female dancers will vie in the "Women's Fancy Shawl" contest. At 5:30 p.m., members of "Calpolli Teotihuacan Anahuac," Aztec dancers from Orange County, will perform.
Since 1971, the Inter-Tribal Student Council has hosted a powwow, or cultural gathering of Native American people from tribes across North America. The council provides students with a place to learn about Native American culture, make friends with students of similar background and get information about events on- and off-campus to participate in. The organization also offers assistance with family lineage and puts on a wide variety of workshops, like drumming and basket weaving.
For more information, call 278-3603. Participants are encouraged to bring chairs and blankets for seating.