Oxford Bound
Philosophers to Present Paper on Global Unionization
June 24, 2008
By Mimi Ko Cruz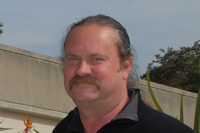 Mitch Avila, associate professor of philosophy
Mitch Avila, associate professor of philosophy, and student Edgar Medina will be presenting their co-authored paper "Securing Justice for Economic Refugees Through Unionization" as part of the international conference, "Diasporas: Exploring Critical Issues" at Oxford University July 5-7.
"This is a terrific opportunity, especially for Edgar," Avila said, adding that the duo worked on the paper for a year. "Edgar, like many of our students, is a first-generation college student. He also is a union stonemason and, so, the topic is one he knows well."
Their paper focuses on the role of unions in ensuring justice for economic refugees.
An excerpt:
"Unions are a pragmatic and practical response to moral and economic problems posed by forced economic emigration and the resulting diaspora. From the point of view of justice, undocumented international migrant labor is unjust because of routine human rights violations, the absence of effective means of legal representation, the prevalence of dangerous and exploitive working conditions and the absence of democratic participation.

"From the point of view of economic efficiency, undocumented labor externalizes costs (such as job safety, health care, retirement, family support and social safety nets) onto competing host country firms and onto the home country's social network. … It may seem counter-intuitive at first to open up union membership to undocumented immigrants, but because unions are already competing with these persons for work, it is in the best interests of all parties involved to make unions truly international."