"Opening Credits" Showcases Art Alumni
Entertainment-Related Works of More Than 65 Artists Represented
March 10, 2008
By Gail Matsunaga
The works of more than 65 art alumni in the entertainment-related industries of feature animation, television, video games, children's publishing, movie promotion and more are showcased in the exhibit "Opening Credits," currently showing through March 23 at Grand Central Art Center in Santa Ana and the West Gallery on campus.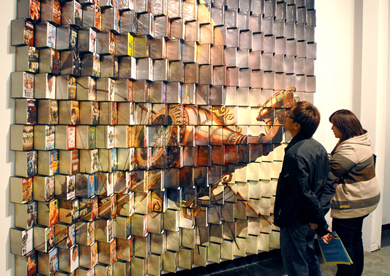 The show is part of the university's 50th anniversary celebration and is third in a series of exhibitions highlighting the talents of art alumni.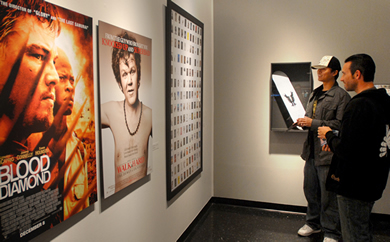 "The public has a seemingly insatiable thirst for entertainment, accessed whenever and wherever it please," says Larry Johnson, chair and professor of art. "Today's technological innovations guarantee delivery of that entertainment through cable and satellite television, the Internet or even cell phones; and, concurrently, these innovations have created a diversity of new career opportunities for artists. 'Opening Credits' showcases creators, shapers and marketers of entertainment — those artists who have mastered their various crafts, and as innovative problem solvers, work together to satisfy a thirsty public."
Also featured in the exhibition is award-winning art from the Hollywood Reporter Key Art Awards Student Competition and NIckelodeon Studio's animation pitch competition.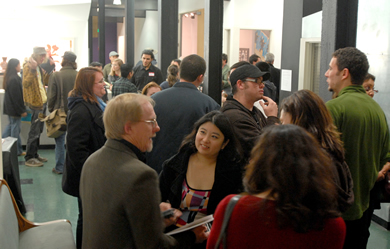 Earlier this month, the Art Department hosted a reception and panel discussion for exhibiting alumni and their friends and family at Grand Central. Moderated by Dana Lamb (B.A. art '75, M.A. art '82)), professor of art, the panelists discussed topics relating to the critically important aspects of the projects they produce, as well as shared their collective thoughts on what the future holds for those seeking careers in their fields of entertainment.
The panelists were: Jeff Bacon (B.A. art '80), managing director, The Designory; Christian Hill (M.F.A. art '05), assistant professor of art, Cal State Fullerton; Adolph Lusinsky (B.F.A. art '93), look and lighting director, Walt Disney Feature Animation; Joshua Pruett (B.F.A. art '02, M.A. art '04), story artist, Dreamworks Feature Animation; Justin Ridge (B.F.A. art '03), episodic director, Lucas Arts; Mike Roush (B.F.A. art '02), story artist, designer and animator, Titmouse Animation; Cheryl Savala (B.F.A. art '89, M.A. art '94), principal/creative director, Menagerie Creative; Garrett Shikuma (B.F.A. art '04), character animator, Electronic Arts; and Rusty Tracy (B.F.A. art '05), CG animation supervisor, Nickelodeon Animation Studio.