Music Ambassadors Abroad
Chamber Choir and Orchestra Performing Through Eastern Europe
May 27, 2008
By Gail Matsunaga
Imagine the "highlights reel" from the Chamber Choir and Chamber Orchestra's Eastern European tour: performing at the academy founded by pianist Franz Liszt and playing a concert in a castle; visiting cities whose buildings date back to the 13th century; taking part in a summer music festival; attending a performance of "The Magic Flute" at the Prague National Opera Theater; and getting to know new friends and musicians whose shared musical passions transcend boundaries and languages.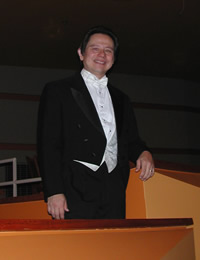 Kimo Furumoto, associate professor of music and Chamber Orchestra conductor
The ensembles' 14-day adventure began last Saturday in Budapest, Hungary, and will include stops in Krakow and Prague, Poland.
Among concert highlights will be:

Franz Liszt Academy of Music, one of the most prestigious concert halls in Europe and whose roster of famous musicians who have studied and/or taught there include Béla Bartók and Georg Solti
Bojnice Summer Music Festival in Bojnice Castle's Hunyady Hall in Slovakia
Karol Szymanowski Academy of Music in Katowice, Poland
Camerata Nova Festival in the Czech Republic city of Náchod
A variety of choral and orchestral works by such artists as Aaron Copeland, Anton Dvorak, Franz Haydn and Stephen Paulus comprise the repertoire. Additionally, a newly commissioned piece by Kenneth J. Walicki, associate professor of music, is making its premiere during the tour. Patricia A. Prunty, assistant professor of music, is a featured soprano soloist in Haydn's "The Creation."
"This tour serves as another highlight of Cal State Fullerton's 50th anniversary celebration," said Kimo Furumoto, associate professor of music and conductor of the Chamber Orchestra. "The ensembles will act as musical ambassadors for the Music Department and will make strides in gaining international recognition at these major concert venues. Most importantly, the student members of these groups will have the opportunity to experience firsthand the countries from which much of our western musical heritage originates."
"At CSUF, we strive to inspire our students to open their minds beyond that of classroom memorization, facts and the florescent lights of music practice rooms," said Robert Istad, assistant professor of music and conductor of the Chamber Choir. "We urge them to connect their university learning experience to the larger world and to an artistic vision of excellence that surpasses their wildest imagination.
"Thanks to the support of the Associated Students and the College of the Arts, the students will have an incredible and life-changing experience traveling throughout Eastern Europe. I'll be thrilled to see the looks on their faces as we first glimpse the stunning Buda Castle on the banks of the River Danube; the imposing, medieval fortress of Bojnice Castle in Slovakia; and a performance of "The Magic Flute" at the Prague National Opera Theater. I know that all of us (me included!) will return from our travels significantly changed.
For a firsthand, ongoing account of the tour, visit the blog entries of student Joe Ward, Chamber Choir member.