Founding Communications Department Chair Dies
William Maxwell Created Program That Continues Today
April 25, 2008
By Pamela McLaren
J. William Maxwell, founding chair of Cal State Fullerton's Communications Department, died April 24 at the age of 88. He had been suffering from Parkinson's.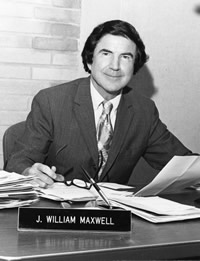 J. William Maxwell
Maxwell joined the university in 1960 and served as chair for 13 years — at the time the longest chairmanship held at the campus. He continued to teach on campus until 1982.
"Bill was greatly respected by all those who worked with him. He was truly a visionary in that he established a 'communications' department that embraced more than just journalism.
"As a result, the department evolved into five concentrations and has become one of the largest in the nation," said Rick Pullen, dean of the College of Communications and a member of the campus since 1973. "Bill loved working with students. He set a goal to know the name of every student within two weeks, even in his large classes. Bill had many friends, both on and off campus. He was greatly respected by all who knew him."
"We joined the campus at the same time and he was an outstanding person, an outstanding professor," remembered James P. Alexander, emeritus professor of communications. "He worked very closely with University President William B. Langsdorf to hire people important in developing the program as he envisioned and he really did a great job. A lot of things Bill did helped put the program in the direction it is today."
When he stepped down as chair, the program had more than 600 majors, including 80 graduate students and 19 faculty members. Twice during the period of 1969 to 1973, Maxwell was cited by the California Newspaper Publishers Association for his contributions to higher education in journalism.
"Bill Maxwell set this department's curriculum on a course at the outset that exists almost entirely intact today," said Edgar Trotter, professor of communications, who joined the Cal State Fullerton in 1975. "He saw the importance of a strong set of core courses from which the individual concentrations could grow. He understood that the term communications was all-embracing and covered all aspect of interaction between individuals, including that through the modern means of communication.
"His passion for international communications, an outgrowth of his own experience, put him well ahead of his time. Today his ideas, his commitment to the field, and his grounding work stand as bright as ever."
Maxwell was himself a Fulbright professor in Peru just prior to joining Cal State Fullerton. He traveled widely and conducted research in many countries, including Africa and the Eastern Mediterranean in 1966, Asia, India, Afghanistan and Iran in 1968, the Society Union and Mongolia in 1969 and Vietnam, Indonesia, Thailand and Pakistan in 1970.
Active in many education and press organizations, Maxwell served as a member in the International Press Institute, International Association for Mass Communications Research, American Association of University Professors and National Association for Education in Journalism, as well as Sigma Delta Chi, the national professional journalism society. Locally, he was a member of the California Intercollegiate Press Association and Orange County Press and Advertising clubs.
From 1955-1959, Maxwell had served as department chair and professor of journalism at the University of South Dakota. From 1959 to 1960, he was a visiting professor at UCLA, where he served as associate director of the campus' "Foreign Press Awards." He also had served on the faculties at Michigan State and the University of Iowa.
"I remember when I was younger and in school, Bill paid special attention to me, encouraged me in my interest areas and generally was a big booster," remembered his nephew Alec Maxwell from Alamo. "He was special in many ways. He was my 'idol' as far as his traveling to so many places and so many times. Bill was kind of a 'shining star.'
"He was the little brother in his family of five siblings and the one who got the PhD and did all the traveling. I think we all shared wonderful experiences vicariously through our Uncle Bill."
Niece Belinda Ashenfelter of Bend, Oregon, remembers Maxwell as a prolific photographer. "When we saw him he always had a camera around his neck. When he attended family events his photos were always the BEST!"
The Fullerton resident earned a doctorate in mass communications from the University of Iowa following a master's degree in journalism from Columbia University's Pulitzer School of Journalism.
He was preceded in death by his wife, Bobbie, and his siblings, but is survived by eight nieces and nephews and their families. In addition to Ashenfelter and Maxwell, they are: John Chessell of Friday Harbor, Wash.; Bill Chessell of Minden, Nev.; Patty Cochran of Concord; Diana Ropke of Woodland; Robert Worthen of Las Flores; and David Worthen of Estes Park, Colo.
Contributions in Maxwell's honor may be made to the J. William Maxwell Scholarship, awarded annually to the top graduating senior in the Communications Department. Checks may be made payable to the Cal state Fullerton Philanthropic Foundation, with reference to the scholarship in the memo section, and sent to Cal State Fullerton Philanthropic Foundation, 2600 E. Nutwood Avenue, Suite 850, Fullerton, California 92831.