Staffer Finds Her Passion Working With Horses
Mimi Lawson of University Extended Education finds solace on the horsetrail
February 18, 2008
By Pamela McLaren
It all started with an emailed notice regarding a barrel racing clinic. Barrel racing is the sport where women ride horses through an intricate pattern of circling three barrels at top speed. It has always amazed me to watch the partnership between rider and swift-foot horse, but I admit, I've rarely ridden a horse and never even considered charging around barrels at full gallop.
So I was a little intrigued when Mimi Lawson of University Extended Education called and told me how surprised she was to find out I was a fellow barrel rider (I'm not). Her mix-up in reading a name very similar to mine led to me finding out that this 8 a.m.-5 p.m. technical support staff member has a secret, horsey life.
Lawson, a Cal State Fullerton alumna who has worked on campus for nine years, began riding at the age of 7.
"My father told me that, when I could afford to purchase my own horse, I could own one," she said. "By the age of 12, I had a job and, by age 14, I had purchased and supported two horses of my own.
"I showed my thoroughbred on the "A" circuit in California as a hunter and jumper, where I regularly ribboned.
"I gave up riding for 19 years to raise my children, but when I became an empty nester, I re-entered the world of horses," Lawson said. As part of that reentry, Lawson rode for the Chino Police Department's Mounted Posse for approximately four years. "I patrolled community events, participated in parades and promoted the police department. I have received four Presidential Silver Awards, as well as recognition from the California Senate and Legislature, for my volunteer work in the community."
She has since retired from her police activities, but is still active in community service. "I spend my extra time teaching Sunday School classes with Calvary Chapel La Verne and riding my 6-year-old paint mare."
And she's taken on a new project, "raising my mare's 10-month-old colt. I figured since my children weren't married and planning on having children in the near future, I wanted a 'grandchild.'
"My passion is working with young, green horses that no one else likes to ride," explained Lawson. "I currently utilize the skills I have learned with the police department to expose horses to sensory objects to overcome their fight or flight nature.
"Being outside, with God in nature, spending afternoons on long trail rides where people generally would not have an opportunity to see brings tremendous peace to the soul. "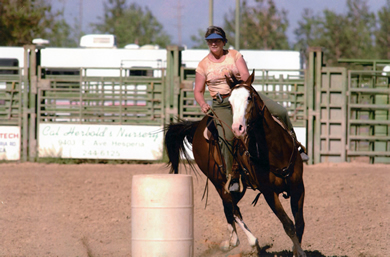 Mimi Lawson practices barrel racing drills. Barrel racing is the sport where women ride horses through an intricate pattern of circling three barrels at top speed.