A Personal Perspective
Student Shares What It's Like to be Autistic
June 10, 2008
By Pamela McLaren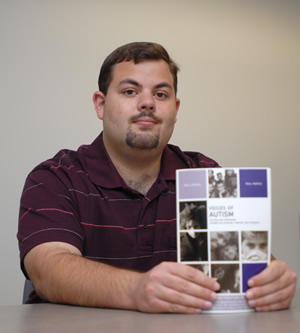 Brian Lafferty, radio-TV-film major, holds an anthology of stories that he contributed to.
"If someone were to ask me what it feels like to be autistic, it would be hard for me to describe. I hardly ever think about it."
So starts an essay by Brian Lafferty, a Cal State Fullerton radio-TV-film major, who is proving that autism is not, in his own words, "a curse."
The essay is part of "Voices of Autism — The Healing Companion: Stories for Courage, Comfort and Strength," an anthology of stories from the perspective of parents, caregivers, teachers, and friends.
"Voices of Autism," edited by The Healing Project, was published last month by LaChance Publishing as part of a "Voices of" book series that offers support, perspective, insight and information on life-threatening or chronic diseases.
Lafferty's autism was discovered in 1997, when he was 11.
"When I look back, there were signs but we didn't see them," said Brian's mom, Debbie Lafferty. "He was the fifth child after four girls, so we didn't think anything about his slowness in speaking. In other things, he was very quick, like learning how to read at 5 years of age."
Even with the diagnosis, the Laffertys decided to not place any special restrictions in Brian's life — except for moving him, in the seventh grade, from public school into the Winston School in Del Mar, where he served on the school paper and was senior class president.
"We gave him, instead, every opportunity," explained his proud mom. "And look where he is today."
After graduating from Winston School, Lafferty attended Palomar College where he discovered the college's radio/TV program. Then a friend told him about Cal State Fullerton and its radio-TV-film program. He transferred in spring 2007 and lives on campus during the school year. He hopes to graduate in 2009.
Q. What's your favorite class at Cal State Fullerton?

A. Television drama and screenwriting. During Communications Week last year, I listened to a presentation by TV writer/producer Stephen Cannell. I was able to talk to him afterward and decided that I wanted to write screenplays. I signed up for the TV drama course and did well.

Q. How did you find out about the "Voices of Autism" book?

A. I was taking a world cinema class from Dr. Gloria Monte (assistant professor of radio-TV-film). She knew I was autistic and told me about the publication. She set up a meeting for me with one of the publishing reps at LaChance Publishing, who asked me to write about how it feels to be autistic.

Q. How was that?

A. The hardest part was how to start. For assistance, I talked to one of my other professors, Bob Engels, and he helped me. I feel that my work was satisfactory. Some people think I have downplayed my success. It's hard to describe my experience because I have never experienced having something published other than in my high school newspaper before.

Q. What do you think about autism?

A. Autism has gotten a lot of negative publicity. Some view it as some sort of a curse, but I don't feel that it is. I have taken what other people see as a disadvantage and turned it into a positive. Parents who have children with autism should teach their children to see it as an advantage and, then, they'll go far.