Addressing Student Needs
Chuck Kissel keeps Titan Shops up-to-date and competitive in service and price
February 18, 2008
By Pamela McLaren
Chuck Kissel always seems to have a smile on his face — and that's difficult to sometimes do when you run a campus book store and face issues of rising textbook costs and increasing competition from online competitors. To help meet the needs of the campus community, he is planning a remodel of the second floor of Titan Shops to expand the space dedicated for textbooks and for technology in order to offer even more products and choices.

The Cal State Fullerton alumnus (B.A. business administration-management '95), has a broad experience in book store operations. He has served as a textbook clerk, textbook return manager, customer service manager and operation manager since joining Titan Shops in 1993. He has served as director of Titan Shops since 2005.

Q. What are the big issues for college bookstores?
A. Remaining competitive in the marketplace, especially with course materials, is probably the biggest issue but we also have to remain vigilant when it comes to planning and positioning ourselves for an uncertain future. We don't want to suffer the "Tower Records" syndrome, where many record stores did not position themselves to remain viable in a market where consumers could purchase songs online and bypass their business. And third, we need to overcome stereotypes of college bookstores: that we're set in our ways and that all we care about is making money off students.

Q. Costs of books, especially textbooks, seem to skyrocket — what is Titan Shops doing to mitigate the cost?
A. We're actually trying out several things, such as flexing our prices. Applying margins that are being used by online competitors. Titan Shops' strategy is to be competitive and encourage students to shop at Titan Shops and support the University.
We're also offering a Lowest Price Guarantee, ensuring the lowest price to our customers with a 125 percent of the difference back in cash.

And even a technology choice is available to help students, digital (electronic) textbooks. Titan Shops was one of the first 10 university bookstores to pilot a program that allows student to purchase an electronic version of the print textbook for 55 percent of the new book price. Content is the same as a print book, just in a PDF format.

Our Textbook Rental Program has been huge. In the past 15 years at Titan Shops I have never seen, nor could have imagined, a program that could offer more savings to students than used textbooks. The program (with the professor and department's support) allows students to rent a textbook for 35 percent of the new book price. That is a 65 percent savings, 40 percent more than the average used textbook. And the program only continues to grow…
Q. How successful have those efforts been?
A. As a member of the National Association of College Stores, we take part in student customer service surveys twice a year, and our results are among the highest in the industry with regards to satisfaction. The number one response…more rental books.

Q. What things do you envision happening in the future in the way of textbooks and college bookstores?
A. No one is exactly sure, but most would agree that a change is coming .… until then, Titan Shops will continue to listen to our customers and react accordingly. Right now, the focus seems to be to offer more rental and lower, more competitive pricing. Our focus will always be to offer as many options as possible to meet the needs of the students at Cal State Fullerton.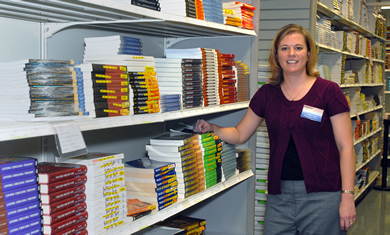 Kimberly Ball, senior manager of textbooks at Titan Shops, joined the campus in January.