Marketing Professor's Paper Honored
Katrin Harich Wins Conference Paper of the Year Award
May 27, 2008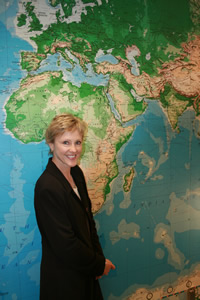 Katrin Harich
Katrin Harich, professor of marketing, was recently honored as co-author of "Building a Marketing Curriculum to Support Courses in Social Entrepreneurship and Social Venture Competitions."
The paper was named the Marketing Educators' Association Conference Paper of the Year April 24 during the 32nd annual association conference in Salt Lake City. It was selected by the association's executive board from among 48 manuscripts accepted for presentation at the conference.
The winning paper is now being considered for publication in the Journal of Marketing Education.
Co-authoring the paper with Harich was Regina P. Schlee of Seattle Pacific University and Mary T. Curren of Cal State Northridge.
A specialist in consumer behavior and marketing communications, Harich joined Cal State Fullerton in 1990 and served as associate dean for Mihaylo College of Business and Economics from 1998 to 2004.Just recently she was appointed director for the Center for International Business, a center established to promote the internationalization of the college's programs involving students, faculty and curricula. Previously she assisted with the creation of the Business European Study Tour, a summer program that combined travel through five European countries and first-hand insight into the European economy, business and management practices.
In 2003, she was awarded the Marketing Educations' Association Educator of the Year Award. The honor recognized the marketing professor for her contributions to the organization, as well as her efforts in the classroom — which resulted in four classes being named national winners in the General Motors Marketing Internship program.