Communications Students Win National Competition
Video on Immigration Garners $20,000 Top Prize
April 8, 2008
Four communications students recently won this year's FOX News Channel's "College Challenge," a national video news competition open to undergraduates from universities across the country.
Carla Franco, Sabrina Johnson, Peter Martinez and Robert Moran submitted "SoCal Immigration: Law, Labor, Liberty," a news video featuring an interview with James Gilchrist, co-founder of the Minuteman Project.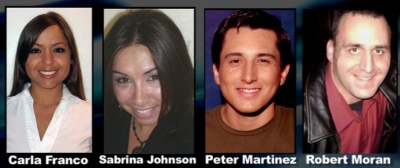 The winning team will appear on the April 25 FOX & Friends program to discuss the experience of making the video and entering the contest.
"This is a national spotlight for the university. It exemplifies the strength of our students and the broadcast journalism program here at Cal State Fullerton," said Brent M. Foster, assistant professor of communications and the group's adviser. "I'm very proud of these guys, they did it all on their own."
The four seniors were in Foster's radio news production course when they decided to take on the challenge – working through their Christmas break to meet the Dec. 31 deadline, said Foster.
The FOX News Channel "College Challenge" was created to recognize, encourage and support excellence in broadcast journalism programs across the country. The contest is open to two- or four-person student teams from universities with bachelor degrees in communications, broadcast journalism, journalism or their equivalent. Fox News offered up 12 topics for the teams to select from in making their videos, which could not exceed three and a half minutes. The Cal State Fullerton team chose "Illegal Aliens: Let Them Stay or Move Them Out?"
Peter Martinez, who taped all the interviews using his own camera, remembers how the group decided upon immigration.
"It all boiled down to the logistics – what contacts were available for each topic, how accessible was it to tape video footage, and what would make an interesting story relevant to not only Southern California but the entire nation. Producing a package about immigration was a timely topic and really our best option."
Carla Franco interviewed a smuggler who has been caught three times by authorities.
"I'm ecstatic about winning this competition. We each brought something unique to the production of the news package and we can now see that it really paid off," she said.
Robert Moran landed the interview with Gilchrist who invited both Moran and Martinez into his home where he talked on camera about immigration and its impact on the United States.
"I felt that when we were working on this project everything came together like magic," Moran said. "For me, having Asperger's Syndrome made this award extra special because it's proof that any obstacle can be overcome."
Sabrina Johnson, who has completed her studies, provided the group with two interviews: a UC San Diego professor of sociology and a housekeeper who fled an abusive husband in Mexico so that she could support her family with a job in the United States.
"Immigration is an influential topic to me because I grew up watching very special people in my life clean homes for freedom and a better life. Working on this project gave each of us the opportunity to push ourselves beyond our comfort zone and gave us the chance to demonstrate our skills and passions," said Johnson.
After all the field production was completed, the group chose what parts of the interviews to use, developed a script and Martinez recorded the voiceover. During the post-production video editing, Martinez said he knew that the group had a big potential in winning the competition.
"I just had a feeling that all the pieces were coming together, and I knew that our video would surpass the judging criteria," Martinez said. "This is such a big opportunity for us to showcase the future of broadcast journalism and make our professor proud, while putting Cal State Fullerton in the spotlight as it celebrates its 50th anniversary."
"During the time we put this news package together we learned a great deal about each other, including the passion we have for great news reporting. The four of us are hard-working and dedicated individuals, who I truly believe will have a bright future in mass media communications," Franco said.
The top prize garnered a $20,000 prize — half of which goes to the team and the other half to the Communications Department for scholarships, grants or new equipment.
"SoCal Immigration: Law, Labor, Liberty" can be seen online at www.rePetePro.com and YouTube.