Interdisciplinary Outreach
Center for the History and Philosophy of Science, Technology and Medicine focuses on sharing ideas across disciplines
May 7, 2008
By Mimi Ko Cruz
Making science understandable for students and encouraging collaborative, multi-disciplinary efforts are the primary goals of the university's new Center for the History and Philosophy of Science, Technology and Medicine.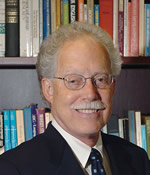 Thomas P. Klammer
"Cal State Fullerton has a significant number of faculty interested in the history and philosophy of science and related areas," said Thomas P. Klammer, dean of the College of Humanities and Social Sciences, where the new center will reside. "This interdisciplinary center will bring faculty members from diverse departments and several colleges together to exchange ideas and collaborate on scholarship. We expect the center will foster joint projects, grant-funded scholarship and student-faculty research."
In addition, he said, the center plans to sponsor regional conferences, public lectures and other activities that express the university's commitment to combine research and teaching, Klammer said.
"An active center and public program will help keep faculty and student recruiting efforts competitive and promote greater science literacy among our students," he said.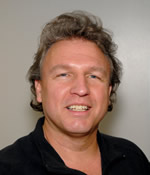 Craig McConnell
Craig McConnell, the center's director and associate professor of liberal studies, agreed. He said most liberal studies students pursue careers as schoolteachers, and many of them fear the subject of science.
"A lot of our 1,200 liberal arts majors have a science phobia," he said.
To combat that fright, McConnell said, the center will explore new approaches to the field with which students might find less threatening and more inviting. For example, he is working on a class that will look at the issues of the image of scientists in popular culture and how film influences the way people think of science.
Scientists portrayed in movies tend to be wild-eyed Frankenstein types, McConnell explained. "We're hoping to juxtapose the Hollywood image with the true nature of scientists and their work so that students will come to a better appreciation of science."
He said that the center was proposed because "campus-wide conversations have identified a substantial number of faculty members in several colleges who share a scholarly passion for the history and philosophy of science, technology and medicine."
The center's mission includes promoting research and external grant-seeking activities; facilitating the collegial exchange of ideas among faculty, students and the scholarly community; supporting innovation in the teaching of the history and philosophy of science, technology and medicine; and creating opportunities for collaborative activities.
The center already has established a reading circle in which faculty members are reading scholarly publications and discussing their findings.
A public lecture on Charles Darwin is being planned for the fall and, McConnell said, a spring symposium to showcase research is being planned for 2009.