Addressing Immigration
Issues of Undocumented Students and Higher Education Discussed at Conference
June 17, 2008
By Mimi Ko Cruz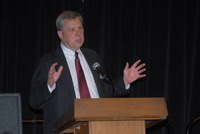 John Burkhart of University of Michigan's Center for the Study of Higher and Postsecondary Education. Photo by Kelly Lacefield.
As one of the most contentious issues on the nation's political agenda rages on, immigration was tackled earlier this month at a campus conference sponsored by Cal State Fullerton, the California State University, California ENLACE, the College Board and UC Irvine.
Conference speakers pointed out the critical role immigrants have played in America's growth and discussed strategies on how colleges and universities can help undocumented students gain a higher education and affect immigration policy on the national level.
"Immigration and access to higher education is the civil rights movement of the 21st century," said John Burkhart of the University of Michigan's Center for the Study of Higher and Postsecondary Education.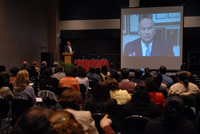 President Milton A. Gordon and about 100 conference participants listen to California State University Chancellor Charles Reed deliver a welcome address via video. Photo by Kelly Lacefield.
The movement is based on moral issues and it is the duty of educators to provide leadership in the effort to provide higher education for all who live in America, Burkhart said.
Immigration "is one of the most important issues of our time," said Silas H. Abrego, associate vice president for student affairs. "I think the conference destroyed many myths about immigrants being a drain on social services, schools, hospitals and the economy. This is the message we need to get across to the public."
Conference organizers said the event was aimed at sparking action on the part of educators because giving undocumented students access to higher education benefits everyone.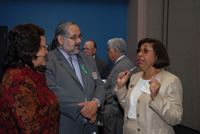 Civil rights activist Sylvia Mendez, right, speaks with conference goers. About 60 years ago Mendez's parents won a lawsuit against the segregated Westminster School District. The case led to desegregation of all Orange County schools. Photo by Kelly Lacefield.
Leo R. Chavez, UC Irvine professor of anthropology, said many of the undocumented in the U.S. arrive as children and about 80,000 nationwide turn 18 each year.
"What can we do?" Chavez asked conference participants. "We need to stand up" against the myth that immigrants are a drain on society.
He cited statistics: immigrants contribute to the $40 billion agriculture industry in California and pay $7 billion toward social security that they do not benefit from because they are undocumented. Chavez said those who promote negative stereotypes about immigrants often are successful in making "divisive laws that make people's lives awful, and it's time to destroy" those stereotypes.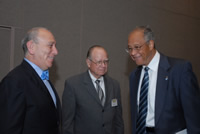 Cal State Fullerton President Milton A. Gordon, right, speaks with former California Supreme Court Justice and UC Davis law professor Cruz Reynoso, center, and James Montoya, vice president of the College Board. Photo by Kelly Lacefield.