Exploring Society and Culture in South Africa
Professor and 13 Students Participate In New Study Abroad Program
June 17, 2008
By Mimi Ko Cruz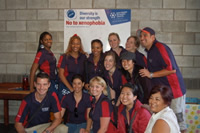 Thirteen Cal State Fullerton students learn about the history of social inequality in South Africa first hand.
While learning to speak the Xhosa language and taking a class on social inequality at Nelson Mandela Metropolitan University in South Africa, 13 Cal State Fullerton students also are immersing themselves in the country's culture.
"This is an amazing trip," said Adrian Gonzalez, one of the students. "I have learned so much about people and myself. I could not have asked for a better group of people to spend a semester abroad with. I am proud to represent CSUF and the United States on this journey in South Africa. I definitely will never take my American freedoms for granted again."
Gonzalez and the other students -- Ashley Arnold, Jory Bentley, Stephanie Brown, Rosalina Camacho, Laura Davalos, Christine Kha, Rachel Kha, Melanie McCook, Trina Mitchell, Mary Ellen Montoya, Samuel Price and Tekoa Sanders -- will return from the five-week program on June 29.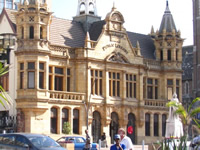 Students spent time experiencing all aspects of South African culture, from rural farms to urban museums, meeting people from all walks of life.
Ronald E. Hughes, professor of sociology who is teaching the social inequality class, said the students are calling the program "the most unforgettable experience."
Hughes said the group has visited families, farms, museums, university dignitaries and politicians all over South Africa.
"In New Brighton, the students saw shanty towns and the places people live without electricity, water or indoor toilet facilities," Hughes said. "They're learning Xhosa, which is the language of one of the groups of people that experienced colonization by the British. We attended a Xhosa ancestral ceremony and saw the incredible birds, giraffes, zebras, rhinoceroses and other animals at Kragga Kamma Game Park in Port Elizabeth."
Hughes added that the Cal State Fullerton students also met children who have AIDS or whose parents died of AIDS; stayed with Afrikaners on their farms; visited Grahamstown, where they were treated to a concert; and walked Robben Island, where Nelson Mandela was imprisoned for 27 years for spearheading the fight against apartheid.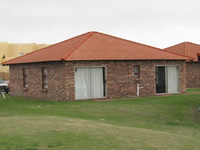 Dorms at the Nelson Mandela Metropolitan University.
In addition to class and field trips, the students have been volunteering in community projects in which they worked in homes for abused children and the elderly.
"It's important for students to know what's going on in the world, economically, politically and socially," Hughes said. "This experience has given these students an increased knowledge base. They are comparing how people live across the world with some of the same challenges we have at home, such as race, poverty, gender and age issues."
Some of the students, McCook and Bentley, are writing blogs about their experiences. To read them, visit http://melstravel.blogspot.com and http://studyabroadpesa.blogspot.com.
In an e-mail to her mother, Stephanie Brown described some of her daily experiences.
"Today, we went to a small museum where we saw all the artifacts that symbolized the unspoken unity between the people under the apartheid regime, such as sports," Brown wrote, adding that she learned that corn is a staple in South Africa and she was looking forward to the hundreds of different ways it is prepared.
"Thanks to the vision of our president, Milton A. Gordon and our dean of Extended Education, Harry Norman, Cal State Fullerton is certainly a leader in internationalizing our curriculum effectively," said Angela Della Volpe, associate dean of the College of Humanities and Social Sciences. "South Africa is one of the most important, democratic countries on the African continent. Studying there under our own faculty, is giving our students the unique opportunity to earn university academic credit while building their international work experience and service learning skills. This international encounter benefits both our community and the international community."