Titan Basketball Coach Contract Extended
Bob Burton Signs Through 2012-13 Season
June 9, 2008
From Sports Information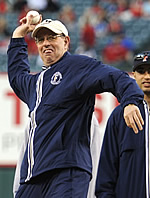 Bob Burton throwing the first pitch at an Angels baseball game in March where the 2008 championship team was honored.
Head Coach Bob Burton has signed a contract extension that will keep him in charge of the Cal State Fullerton men's basketball program through the 2012-13 season.
Burton has compiled a 92-60 record in five seasons with the Titans, including two wins in the 2005 Post-Season National Invitation Tournament and a first-round loss to Wisconsin in the 2008 National Collegiate Athletic Association Tournament, Fullerton's first berth since 1978. Last year's team won the Big West Conference post-season tournament after sharing in the school's first regular-season conference title since 1976.
"I think Bob's record speaks for itself and we are delighted we are able to keep him at Fullerton," said Brian Quinn, director of athletics. "Not only have we enjoyed four consecutive winning seasons, but seven of his players are graduating in 2008."
With a .605 percentage, Burton is the winningest coach in school history. He was selected the National Association of Basketball Coaches District 15 Coach of the Year for 2007-08.
"I appreciate the commitment from Brian and the university," said Burton. "They gave me a chance out of the community college ranks and I'm happy everything has worked out so well."
Burton's first Titan team in 2003-04 was 11-17 primarily with players inherited from predecessor Donny Daniels. The 2004-05 team went 21-11 and won NIT games at Oregon State and USF before losing at Georgetown. After a 16-13 season in 2005-06, the Titans have posted back-to-back 20-win seasons for the first time at 20-10 in 2006-07 and 24-9 last season.