Santa Ana Teens Live on Campus, Experience University Life
CSUF's Upward Bound Summer Residential Program Gives High School Students Hope for a College Education
July 23, 2007
By Debra Cano Ramos
A year ago, 16-year-old Ruth Robledo couldn't imagine pursing higher education. Nor could she foresee getting the opportunity to live on a university campus for six weeks and taking college preparatory courses this summer.
Last year, the high school student's 46-year-old mother lost her long battle with brain cancer. Robledo was devastated by the loss of her mother. She had trouble focusing on her schoolwork and even lost hope for her own future.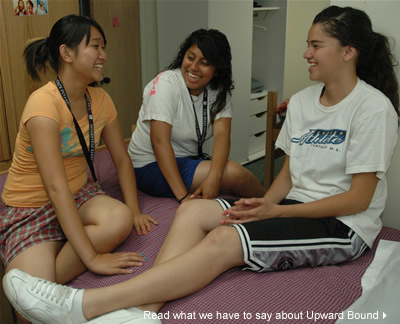 Denise Nguyen, left, Griselda Andres and Monica Moreno, all students from Santa Ana high schools, are experiencing college life this summer, thanks to Upward Bound, a six-week summer residential program.
Robledo's father had left the family years ago, so her 24-year-old sister, the eldest, became guardian of her and two younger siblings. After their mother's passing, the siblings struggled to remain together in their Santa Ana home.
Today, her sister Maria, a 2006 CSUF mathematics graduate, works as an office specialist to support the family. Her 20-year-old sister, Natalie, attends Orange Coast College and brother, Ivan, 18, recently enlisted in the U.S. Marine Corps.
Determined to follow in her elder sister's footsteps of one day earning a college degree and to honor her mother's wishes for her to have a better life, Robledo turned to the Upward Bound program at Cal State Fullerton.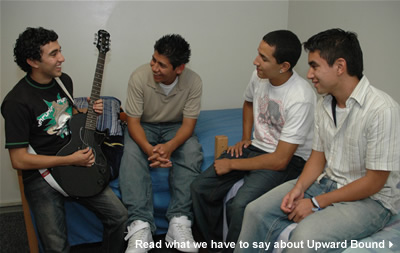 Michael Hernandez, left, plays his guitar in the dorm room he lives in during the Upward Bound summer program at Cal State Fullerton. Hernandez's new friends, who share the room with him, are, from left, Manuel Ramos, Salvador Livingston and Alexis Alegria.
"My mother wanted me to go to college and to take advantage of education opportunities available," said Robledo, whose mother was a Mexican immigrant and had an elementary-school education.
Robledo, who will be a Saddleback High School junior this fall, plans to pursue a career as a psychologist. To help Robledo reach her dream, she is among 39 teens currently participating in the Upward Bound Summer Residential Program, which continues through Aug. 2.
The summer curriculum is part of the Upward Bound year-round program, which offers individual mentoring, tutoring, career advising, as well as educational field trips and academic development, to high school students from the Santa Ana Unified School District.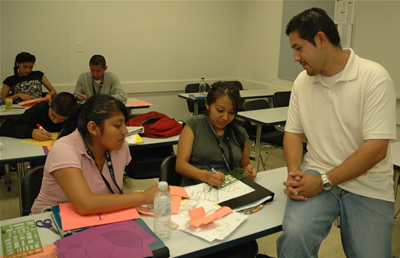 Roberto Gonzalez, director of the Upward Bound program, mentors Griselda Andres, left, and Alondra Pacheco in a geometry class.
"The program helps participants see that higher education can be a reality," said Roberto Gonzalez, Fullerton's Upward Bound director.
Offered at no cost to students and their families, the federally funded program is geared for teens whose parents are not financially able to send their children to college.
"All of our students come from low-income families, and most are the first in their families to pursue a university education," Gonzalez said.

Upward Bound summer students, from left, Jose Perez, Wendy Velez and Himbler Garcia take a geometry course taught by Oscar Lemus
In June, Cal State Fullerton received a $1.5 million U.S. Department of Education grant to continue the program over the next five years. This school year, 85 students in grades 9 through 12 from four Santa Ana high schools — Santa Ana, Saddleback, Valley and Century — are enrolled in the program. In order for students to participate, they must be low-income or first-generation college students and a U.S. citizen or permanent resident. Students showing academic promise and the desire to apply to college are targeted for Upward Bound.
"About 20 freshman and sophomore students are accepted into the program each year and remain involved during their high school years. Of the students who completed the program as seniors this year, 90 percent will continue their education at four-year institutions, and the rest will attend a community college," Gonzalez said.
With the summer residential program, students get the opportunity to live on campus for six weeks and experience college life firsthand. They live in four-bed dorm rooms, eat all their meals in the cafeteria and from 9 a.m. to 5 p.m. take rigorous academic courses in such subjects as geometry, algebra II, computer science, English and Spanish.
"The residential program offers students a glimpse into their near future as college students," added Gonzalez, who grew up in Santa Ana and is a Saddleback High School graduate. He is the first in his family to earn a college degree and is currently pursuing a doctorate in education at USC.
Some courses are offered for high school credit, which, in turn, enable students to focus on taking advanced high school courses to better prepare them for college. Personal enrichment workshops on topics such as time management and study skills and special activities, including karate, dance and swimming also are offered during the summer program.

On Friday nights, the high school students go home and return to the university on Sunday afternoons. On an occasional Sunday, they take educational field trips to museums and local universities — exposing them to other college environments — or go on social outings to the beach.
For most in the summer program, it is also the first time they are away from home and from their parents, and it's also the first time they set foot on a university campus.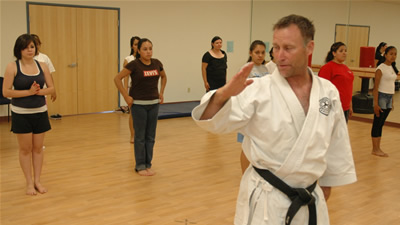 David Hines teaches participating high school students from the Santa Ana Unified School District self-defense techniques as part of Cal State Fullerton's Upward Bound summer program.
"I didn't realize the campus was so big!" exclaimed 14-year-old Denise Nguyen as she sat atop a dorm bed chatting with her roommates. The Saddleback High School student was enjoying making new friends. She also commented on having to take responsibility to get to university classes on time — without the familiar sound of a high school bell to remind her to go to class.
"I feel pretty lucky to be in the program. It's so exciting," admitted Nguyen, a Vietnamese-American who wants to be an anesthesiologist and would be the first in her family to go to college. "This program will help me to get into college and is giving me an understanding of what to expect."
Michael Hernandez, 15, of Santa Ana High School, also said that Upward Bound is helping him prepare for college and demystify his fears: "This program is giving me a head start. I'm really getting an idea about what college is all about, so I won't be overwhelmed."
Hernandez, who wants to be a brain surgeon, said that it also has made him realize that achieving a higher education is not an impossible dream.
"It is possible," he said excitedly.
Robledo noted that she is grateful to Upward Bound staff members who have helped guide her, as well as assisted her in applying for scholarships. This month, she landed a $25,000 scholarship from the Ronald Simon Family Foundation for her college education. As a Simon scholar, beginning this fall, she'll receive $9,000, and the remainder of the scholarship will be used for college.
Now, she said, her future is looking brighter: "I really want to have a college degree, a good career — and I want to make my family proud of me."