Taking the Lead
Cal State Fullerton music students become teachers, band leaders and coaches to aspiring musicians
April 2, 2007
By Gail Matsunaga
On a cool, drizzly morning, the Tustin High School students in Terri Schmidt's choral music class are standing in three circles — boys, altos and sopranos.

At the piano, Schmidt plays the initial accompaniment, then walks around to each group, listening and encouraging her students to listen to each other. Later, Schmidt announces: "We need to do something different with some of these phrases. What do you suggest we do so we don't get bored?"

One boy proposes singing a particular phrase with a crescendo, to which one of his classmates responds, "That sounds really good."

After trying the suggested approach, Schmidt (B.A. music '05) replies: "That's kind of interesting. Let's start at measure 23 with a mezzo forte, and then a forte at measure 25 and crescendo up to the end."

Satisfied with their progress, she instructs the class to move on to the next piece.

Like many who have earned their music teaching credentials from Cal State Fullerton, Schmidt is working as a music teacher. In addition to directing Tustin High's choir, she supervises the band and orchestra.
According to Dennis J. Siebenaler, assistant professor of music, the credential program's "permanent placement is very high."

Part of the success, he said, "is the strength and preparation of the students in the program. Also, they're out working in the schools. They have lots of chances to work with kids throughout the program."

The strength and preparation of the future teachers must be evident even before they enter the credential program. Admission is not automatic. Students must apply and demonstrate proficiency in their subject matter — vocal, instrumental or general music — in addition to earning a bachelors degree in music with a music education concentration. As student teachers, they must teach two of three levels — elementary, junior high, high school — and report to a master teacher at each school. During this time, faculty members monitor students, sometimes lending a helping hand or advice. And throughout the program, they return to campus for courses required by the College of Education and Music Department.

In addition to demonstrating the success of the program, the recent credential class of 2006 — including Schmidt — shows the variety of teaching positions that awaited them.

Brian Gallagher (B.A. music '05) is the full-time band director at Norco High School, leading its marching, symphonic and concert bands, and jazz ensemble.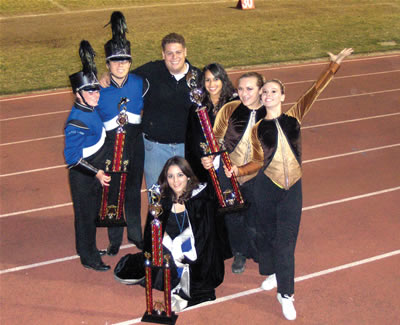 Brian Gallagher, third from left, is the band director at Norco High School.
Although students traditionally spend their first semester in the credential program primarily observing and providing instruction under the supervision of their master teachers, Gallagher said he started "working with students right off the bat," at Orangeview Junior High School in Anaheim, which had an orchestra, jazz ensemble and beginning band class.

"It was a new experience for me," he said. "I had no orchestra experience, no beginning band experience. It helped me learn a lot."

Gallagher also worked as an intern at Servite High School to run an after-school music program.

Allowing that just knowing music isn't everything, Gallagher said, "I honestly thought I knew it all, but student teaching was the best thing to happen to me. I benefited a great deal."

Currently a teacher at St. Martin of Tours, a private K-8 Catholic school in Brentwood, Judi Elterman began her credential program at age 59. She previously was a television director and associate director for such series as "Facts of Life," "Charlie Rose," "Silver Spoon," "MacNeil/Lehrer News Hour," "Punky Brewster" and "Charles in Charge."

"What I was doing was getting less and less satisfying," Elterman said of her 30-year career in television production.
She discovered her new profession when "my mom heard me sing and said, 'You have a pretty voice. Why don't you join a choir?' So, I joined a choir in Santa Monica — loved it — and before I knew it, I was singing in Germany and Czechoslovakia with the William Hall Master Chorale.
"Then I started voice lessons with Nicole Baker [lecturer in music], which was the conduit for my new career."
Two days a week, Elterman teaches 17 classes, including recorder lessons plus choir after school. The remainder of the week, she assists other teachers. Once a month, she conducts the school choir at a school mass and Sunday mass.
Schmidt too, pursued a teaching career later in life, although she had led the small ensemble, plus children, youth and adult choirs at a church.
"The best part of teaching," she said, "is watching the kids' responses after they perform; not just watching them succeed, but knowing that this makes an impression for the rest of their lives. It's something they carry with them forever."
On the flip side of teaching at just one school are Kyle Betts (B.A. music '04) and Deanne Robertson (B.A. music '05), who are employed by school districts to teach at several locations.
Betts' fifth- and sixth-grade students can be found at seven elementary schools in the Corona Norco Unified School District.
"Since my junior year in high school, I wanted to be a music teacher," said Robertson, who teaches for the Hacienda La Puente Unified School District.
At Sparks Middle School, her classes include band and music appreciation. At the elementary level, she's teaching the recorder to fourth graders, as well as fifth- and sixth-grade band at Temple Academy; and she's directing the fourth- through sixth-grade band at Sparks Elementary School.
Of her overall experience in the credential program, she said: "It was more demanding than I thought it would be — it was a good demanding. I was very pleased with it."
As funding for the arts continues to struggle, one might question the odds of securing a job teaching music. But Helen Taylor, coordinator of secondary education, who facilitates internships for students pursuing their single-subject credential, said: "You hear about music programs declining, but our kids get jobs. Our music department does a super job. The program is known throughout the state."