Smart Sponge: Building a Better Trap
CSUF Professor Studies Best Way to Kill Microbes With New Device
December 3, 2007
By Russ Hudson
Jeff Kuo, professor of civil and environmental engineering, is helping to build a better trap. Not for mice, but for two forms of bacteria, enterococci and E. coli, that can make individuals sick if they swim or play in the water on bad beach days.
It is part of his work to solve one of the causes of beach pollution in Orange County: storm runoff. Under a $19,700 contract from Riverside-based AbTech Industries, Kuo is running tests to determine how effective the AbTech Smart Sponge Plus is in killing various microbe concentrations as contaminated water passes in a flow-through system, rather than stopping water for treatment.
Unlike a household sponge, the AbTech product doesn't absorb water and hold it. Rather, the product is made of a polymer shaped like partially shredded packing peanuts bonded to an antimicrobial agent. Thousands of pieces are packed in pipes or catch basins so that as storm water passes through, microbes come into contact with the product and are then killed.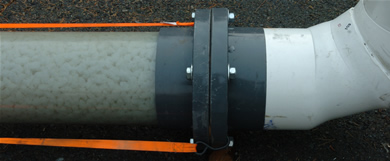 Water contaminated with bacteria flows down from the feed tank then through this clear plastic pipe packed with the Smart Sponge Plus polymer "peanuts" that carry an agent that kills the microbes on contact.
Kuo's job is to find out how efficient the system is under various hydraulic retention times, or flow rates. Working with him is senior civil and environmental engineering major Julie Pollard and environmental studies graduate student Momoe Kanada, as well as AbTech staff members and Los Angeles County Sanitation District staff who serving as project consultants.
In a fenced area behind Room 40 of the Engineering Building is a Kuo-designed testing unit. Dechlorinated water is seeded with varying concentrations of bacteria in a feed tank, then run through a 10-foot-long clear plastic tube packed with Smart Sponge Plus, at various intensities to simulate storm runoff.
Water samples are taken from the 300-gallon feed tank to check the bacterial concentrations, then again as the water exits the Smart Sponge Plus-packed tube. The water is rechlorinated to kill all microbes that might have survived the polymer product before being disposed. Samples are compared to see how thorough it was in killing the microbes at a particular packing density, microbe concentration and flow rate.
Storm-caused sewage spills of bacteria-laden water tend to happen in average-to-wet years, such as 2005, when enough sewage and other runoff was spilled onto Orange County beaches to cover an acre about a foot deep, according to ocbeachinfo.com. It takes about 12 basketball courts to make an acre.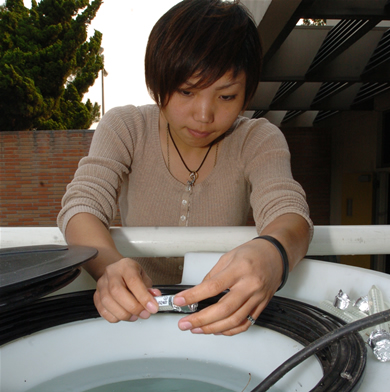 Momoe Kanada, a graduate student in civil and environmental engineering, introduces lab-grown bacteria microbes into a large water tank prior to testing a polymer product to see how efficiently it kills the microbes.
Although County of Orange Health Care Agency data reports that only about 11 percent of spills are caused by storm runoff, such spills typically range from the low thousands to the hundreds of thousands of gallons — and can lead to closure of stretches of coastline, Kuo noted.
In addition to the sewage spills caused by runoff, Kuo pointed out, storm runoff eventually enters rivers and the ocean, causing significant threats to surface water quality.
"We have just finished the series of tests and are about done going over the data," Kuo said, "The data indicate that under the conditions tested, the media consistently reduced the seeded enterococci to below detection limits, and also effectively reduced E. coli concentrations, but to a lesser extent.
"This project in storm-water runoff treatment is complementary to my continuing research interests in water quality and water-pollution control," added the researcher who worked in the chemical and environmental engineering industries for more than 10 years before joining Cal State Fullerton in 1995. Kuo has authored more than 80 technical papers and a book, "Practical Design Calculations for Groundwater and Soil Remediation."
In addition to this contract, Kuo also is working on "Removal of Organics and Heavy Metals Using Nanoparticles," funded by Kennedy/Jenks Consultants; "Evaluation of Disinfection Technologies for Wastewater Treatment," funded by the Water Environment Research Foundation; "Energy Recovery and Emission Reduction of Landfill Gas in China," funded by the U.S. Environmental Protection Agency; and "Technological Options for Reducing Non-CO2 Greenhouse Gas Emissions," funded by the California Air Resources Board.