Eyewitnesses to a Dream
"I was there when CSUF graduate Tracy Caldwell realized her longtime dream of going into space..."
August 21, 2007
By Dave Reid
In life, we sometimes get lucky and see a personal dream come true. When we attend graduations, weddings, take a ride in someone's new car or celebrate a friend getting their dream job, we share in those dreams being fulfilled.
On Aug. 8, I was there when CSUF graduate Tracy Caldwell realized her longtime dream of going into space, as a crew member aboard the Space Shuttle Endeavour.
My journey to the Kennedy Space Center began a few months ago when I received an official-looking envelope that bore the NASA logo. I found an invitation I never expected: "The crew of STS-118 cordially invites you to the launch of the Space Shuttle Endeavour."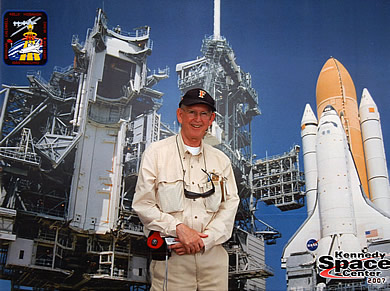 Dave Reid at the Kennedy Space Center.
I was honored. During my years on campus with Public Affairs, I had written several articles about this remarkable young woman, who as a teenager dreamed of becoming an astronaut and flying into space.
Prophetically, when she graduated from Beaumont High School, she wrote in a friend's yearbook, "I'll wave to you on my way to the moon."
I first met Tracy at a summer reception at the campus Garden Cafe in the mid-1990s. I followed her career and arranged for her to speak at a special convocation ceremony as a newly minted astronaut to mark the kick-off of the university's 40th anniversary celebration.
Her eloquent remarks about the education she received at CSUF and the gratitude she expressed for her mentor, Dr. John Olmsted, other professors and staff members made a powerful impression on the audience.
Fast forward to the week of Aug. 6.
I boarded a United Airlines flight to Orlando on Monday, Aug 6. I sat next to Brad and Tammy Hitchcock, who were married two days before and were on their honeymoon trip to Orlando. Brad, a diesel mechanic, and Tammy, a brand new pediatric nurse, were married in ceremonies in Beaumont — Tracy's hometown. I naturally told them all about Tracy.
My next Tracy encounter came in Orlando when I went to the car rental counter. I told the agent that I was going to the space shuttle launch.
"You must be here to see Tracy Caldwell," she said.
Dumbfounded, I said, "How did you know?"
She explained that several of Tracy's family members and friends, including an uncle, had rented cars and the agent just assumed I was another Tracy watcher. Again, I naturally told her all about Tracy.
NASA has a policy of warning shuttle launch guests to be flexible, as launch arrangements are subject to change. This was the case for Mission STS-118. The launch, originally scheduled for Aug. 9, was moved up to Tuesday, Aug. 7. A few days before Aug. 7, the date was changed to Wednesday, Aug. 8.
The days before the launch, and especially launch day itself, the local newspapers and TV stations had coverage of the event. NASA itself had its own channel, which offered updates and interviews with the astronauts.
Tracy was very articulate in describing her role for the mission during one of the interviews. She explained that one of her jobs was to handle robotics and serve as a choreographer for the space walks. She also told of how she was inspired by Christa McAuliffe, the teacher-astronaut who perished in the Challenger disaster.
"If a teacher could go into space, why not me?" she asked herself at the time.
Then launch day arrived.
I headed out to the Kennedy Space Center in plenty of time to look around, have lunch and board a bus for the 6:36 p.m. launch.
It turned out that the visitor center attracted nearly 12,000 people that day. The place was absolutely jammed in that 107-degree environment.
After passing through security, I came across a scale. For 50 cents I could find out my weight on Earth (153 pounds), on the moon (25.5 pounds) and on Mars (59.6 pounds). The center had many displays, including a tribute to President John F. Kennedy, who set a goal of putting a man on the moon in 10 years.
The restaurants were jammed, and I finally I was able to get a cheeseburger. At the table next to me were twin three-year-old girls, Zoey and Katie, from St. Petersburg. I couldn't help wondering if these girls might follow Tracy into space in a generation or two.
Then it was time to board a bus to the launch-viewing site, about 15 minutes from the visitor center. Hundreds of people were in lines that snaked back and forth like the lines at Disneyland.
As I boarded my bus — one of 50 official NASA buses — I noticed that many people had ribbons on their chests that carried the name of an astronaut. A group boarding my bus had blue ribbons that said, "Tracy Caldwell." It turned out that Tina, Alyssa, Lichar, Jake, Jessica, Kira, Andrew, Sarah, Sue, Steve and Deanna were all friends of Tracy from Houston.
It was a short ride to the causeway viewing area down a narrow paved road. In addition to the 50 NASA buses, there must have been at least another 50-75 buses from private tour groups.
Across the water about six miles away you could barely see the shuttle launch vehicle surrounded by a hazy sky. Then came launch time.
At precisely 6:36 p.m., thousands of pair of eyes and cameras were focused on the launch site as a white-hot glow flashed followed by a resounding boom. The shuttle vehicle soared skyward at 9,000 miles per hour and was followed by a huge stream of white smoke.
We could feel a perceptible rumble as the launch vehicle took off. As a Florida highway patrolman told me, "It makes you proud to be an American watching the launch."
The crowds cheered wildly and applauded as the spacecraft disappeared from view. Seven-and-a-half minutes into the flight, the spacecraft was traveling at 12,000 miles per hour on its way to 15,000. In another few minutes it had reached orbit and was to dock with the International Space Station the next day.
On the way back to the visitor center, I sat next to an Air Force colonel, who had been invited by Mission Specialist Alvin Drew Jr. We talked about our astronaut acquaintances and agreed that we both witnessed a dream come true for both of them.
And some day, maybe dreams of space flight may come true for Mission Specialist Zoey and Commander Katie.
Postscript: Endeavour made a picture-perfect landing on Tuesday, Aug. 21, one day early because of possible effects of a hurricane affecting Mission Control at Houston. The trip lasted 13 days and traveled 5.3 million miles.