Fall Semester Must Be Right Around the Corner
It's Moving Day at the Residence Halls
August 20, 2007
It was moving day at the campus residence halls Wednesday, Aug. 15, as 800 new and returning students lifted boxes, lugged clothing and carted books and other items into their homes away from home before the start of the fall semester.
New students were moving into the Cobb Residence Halls, three four-story buildings opened in 1988, while students with previous residence hall experience found their way into the five-building, four-story housing complex completed in 2002. Both facilities are designed with apartment-style suites featuring either single-occupancy or double-occupancy bedrooms, shared kitchen and living areas. Both facilities feature sports facilities, landscaped areas for student gatherings.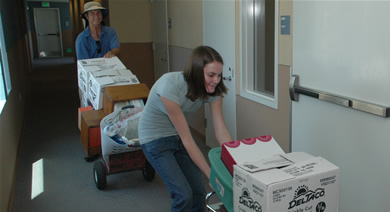 Dad Tom Johnson leads the way as his daughter Laura, an incoming President's Scholar, brings more things during the move into the residence halls on Wednesday, Aug. 15.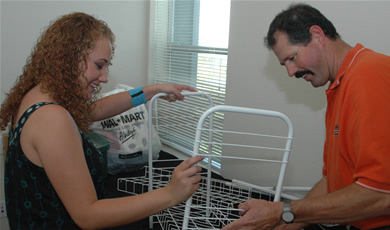 With a little help from dad, Greg, Ashley Doyle puts together a shelf as part of her moving day endeavors. Doyle is a pre-business major from Lompoc.