Legends & Legacies Honors CSUF's Top Donors
Benefactors' Gifts of $100,000 and More Advance All Areas of the University
September 24, 2007
By Gail Matsunaga
Against a "backdrop" of water and ice, Cal State Fullerton dedicated its inaugural Legends & Legacies gala to the benefactors who have made substantial investments — $100,000 or more — toward the advancement of the university.
Annette Feliciani (B.A. business administration-finance '80), chair of the CSUF Philanthropic Foundation, emceed the festivities, which featured entertainment by opera star Rod Gilfry (B.A. music '81) and special musical performance by music major and string scholarship recipient Daniel Noh.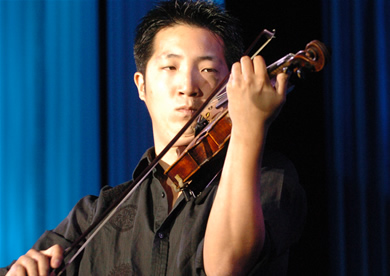 String scholarship recipient Daniel Noh entertained guests with a special musical performance.
Personalized video tributes spotlighted Gold Legacy Honorees whose gifts totaled $1 million or more, including alumni Dan Black (B.A. physics '67), Steven G. Mihaylo (B.A business administration '69), and James D. Woods (B.A. business administration '67); emeriti Giles T. Brown and P. June Pollak and her husband, George; Jerry and Merilyn Goodwin; Kathryn McCarty; the late Vaughncille Joseph Meng; and organizations Archstone Foundation and Boeing Co.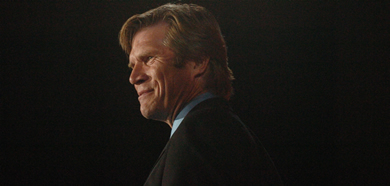 Rod Gilfry, Titan alumnus and international opera star, was the gala's featured entertainer.
Eliciting tears, laughter and awe, the individual vignettes conveyed stories and feelings of gratitude for lives full of richness, humble beginnings and a passion for giving that has and will enrich Titan students for many generations.
Brown, one of the university's early faculty members, said he decided to help Cal State Fullerton because of his many years spent on campus.
Woods said that he feels like he's giving back his fees and spoke of being raised by a single mother working "day and night" who always found time to help others — a legacy she passed on to her son.
"Cal State Fullerton changed my life," said Black in his video. "When I sold my business in 1998, I thought about where I could give back to. The only thing that I could think of was, who best helped me achieve what I did?"
Of their commitment to Titan baseball, reflected in the naming of Goodwin Field, Jerry Goodwin said, "Baseball enabled many young men to go college." Added Merilyn Goodwin, "I hope that when they take the field they think about having a 'good win.'"
Video montages acknowledged Silver Legacy Honorees, supporters whose contributions to the university total $500,000 to $999,999, plus the more than 100 Bronze Legacy Honorees who have given $100,000 to $499,999.
Following is a list of all Legends & Legacies honorees:
Gold Legacy Honorees
Archstone Foundation
Dan O. Black
Boeing Co.
Giles T. Brown
Paul F. Folino
Merilyn and Jerry Goodwin
Kaiser Permanente
Kathryn T. McCarty
Vaughncille Joseph Meng
Steven G. Mihaylo
Paulina June and George Pollak
Michael Reagan
James D. Woods
Silver Legacy Honorees
Annie E. Casey Foundation
Kris and Steve Charton
City of Fullerton
Friends of the Fullerton Arboretum
Dale M. Hallberg
Irvine Co.
Maria Hernandez Foundation
Mercury General Corp.
Rick Muth Family
Open Society Institute
Orange County Teachers Federal Credit Union
Orangewood Children's Foundation.
Frank Robitaille
Bronze Legacy Honorees
Raymond Adams
Bette and Wylie Aitken
Alcoa Fastening Systems
William H. Alamshah
James Alexander
Katherine Allred
Michelle and Jeffrey Anderson
Vicki and Dennis Anderson
Andrew W. Mellon Foundation
Sharon Arkin and Rodger Talbott
Art Alliance
AT&T
Automobile Club of Southern California
Beulah and Cecil Ballantine
Beth G. Bangert
Bank of America
Beckman Coulter Inc.
Bernard Osher Foundation
Susan and Allen L. Boerner
Janet and Allan Bridgford
Bobbe F. Browning and Lee A. Broadbent
Chevron Corp.
LeNelle Cittadin
Jewel Plummer Cobb
Lucy and Ron Davis
Dhont Family Foundation
Disneyland Resort
Mildred R. Donoghue
Doris Libbea Foundation
Mary and Cliff Doubek
Edison International
Education Foundation for Black Americans
Patricia and Anthony Florentine
Fluor Corp.
Ford Motor Co.
Daniel G. Freedman
Friends of Jazz
Rita and George Golleher
Grant Thornton,
James E. Gutmann
Peggy and Joseph Hammer
Ruth and Merideth "Matt" Helm
Hoag Memorial Hospital Presbyterian
Betty Hughes
Akira Imamura
J. Paul Getty Trust
Michelle and Robert Kargenian
Frances and Stephen Knott
KPMG
Jordan Law
Leo Freedman Foundation
Marcy Arroues Mulville Memorial Foundation
Margaret McCarthy
Edith L. McCullough Living Trust
William J. McGarvey
Elizabeth and Marlan Merhab
Millennia Investment Corp.
Beverly and Arnold Miller
Tim Miller
Joseph Moderow
Mary E. Moore
Moss Adams Foundation
mUrgent Corp.
Music Associates
Ann and Doug Myles
Pierre J. Nicolas
Kalli O'Malley and Terry Giles
Orange County Great Park Corp.
Pacific Life Foundation
PacifiCare Health Systems Inc.
Barbara N. Paige
Sherry and John Paine
Patrons of the Library
Nicole and Geoffrey S. Payne
Pepsi Bottling Group Inc.
Leonora Pierotti
Printrak, a Motorola Co.
Psomas
Raytheon Co. and Thales Group
Elaine Redfield
Retirement Research Foundation
Barbara Robinson
Lorin and Jeff Robinson
Charles Leroy Ruby
Christopher G. Schmidt
Helena M. Schwartz
Wendy K. Sellars-Robinson and Christopher J. Robinson
Howard J. Seller
Leo S. Shapiro
Dixie Shaw
Stern & Goldberg
Bobbie and Daniel Struve
Stuart Foundation
Nancy and Robert M. Taylor
Toshiba America
UniHealth
Diana and Gregory Waller
Julie Weiser
Mabel and John Wilson
W. M. Keck Foundation
Xilinx
Dorothy and James Young
Zenith Insurance Co.