More than 1,000 Take Part in Titan Kid Healthy Challenge
April 28 Event Brings Attention to the Importance of a Healthy Diet and Exercise
May 7, 2007
Campus and community organizations were out in force Saturday, April 28, as part of the Titan Kid Healthy Challenge at Cal State Fullerton. The event was developed to stress the importance of physical activity and good nutrition for children.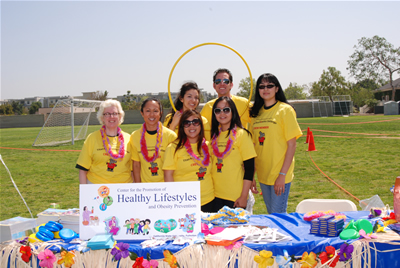 Among the information booths with information at the Titan Kid Healthy Challenge was the university's Center for the Promotion of Healthy Lifestyles and Obesity Prevention.
"Obesity is an epidemic, and the Titan Kid Healthy Challenge brought together kids and families to experience the fun of healthy physical activity, learn how to 'take it home' and promote healthy eating," said Frances Teves, the event's co-chair and CSUF's director of state relations and advocacy.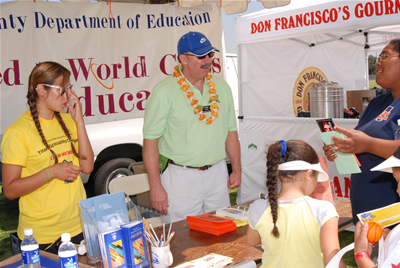 Representatives of the Orange County Department of Education distributed free giveaways.
Nationwide, the percentage of overweight children has nearly doubled in the past two decades from 7 to 13 percent, while the percentage of overweight adolescents has nearly tripled from 5 to 14 percent, according to the Centers for Disease Control and Prevention.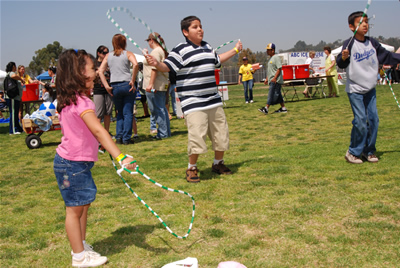 It was fun in the sun as well as a learning experience for these youngsters who took part in the April 28 Titan Kid Healthy Challenge at Cal State Fullerton.
Martial arts, dance, aerobic games and sports were demonstrated to teach kids how to participate in fitness activities. A pledge wall, encouraging children and their families to commit to healthy living and a parent corner — offering tips on how to help their children grow up strong and active — also were featured.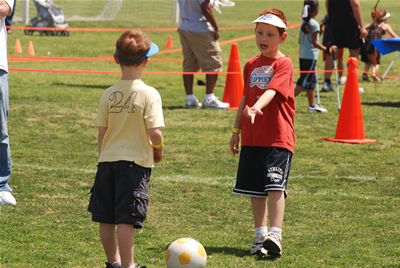 Youngsters of all ages took part in soccer, races, games and other activities during the April event on campus.
In addition, health screenings, educational materials and fitness and nutrition information were offered and every participant was given a pedometer.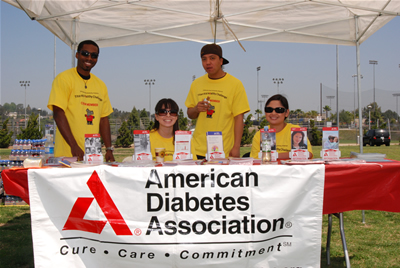 Sharing information about how a healthy diet and exercise can help avoid potentially life-threatening diseases were representatives of the American Diabetes Association.
The event sponsors were Cal State Fullerton, ABC7, CalOptima, CVS, Disney, Don Francisco, Jamba Juice, HOPSports, Kaiser Permanente, the National Association for Health and Fitness, Orange County Department of Education and Steps to Healthy Living Campaign.