Anniversary: a Time to Reflect
Faculty and Staff Look Back On Cal State Fullerton's Early Years
September 24, 2007
By Valerie Orleans
Amidst the elephant racing, games and parties, a quieter gathering took place on campus Saturday, Sept. 15. At the "emeriti breakfast," some of the early faculty and staff members of Cal State Fullerton gathered to reminisce and compare the university of today with the college of yesterday.
Over coffee and pastries, Larry de Graaf, emerti professor of history, gave a brief overview of the campus history and then opened the floor to others in attendance.
"What many people don't realize is that very few universities survive their first 50 years," said de Graaf. "The start of a university is a critical time. Our founders had nine months to create a college and establish a library. And even though we're celebrating the 50th anniversary, we're still in our infancy."
He paused to thank the founders for their vision and insight.
"Although we originally opened with a focus on preparing teachers, the founders were committed to providing a DEEP education in liberal arts," de Graaf said. "They were looking for depth and breadth in this university."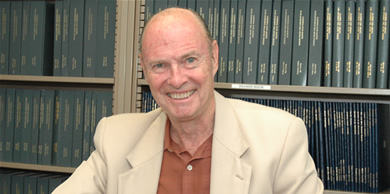 Larry de Graaf
In the '50s, Orange County was a growing community with many residents who already had bachelor's degrees but no teaching credentials. The goal of the fledging college was to turn them into teachers. But the founders also wanted to make sure that the university would expand and develop into the kind of university it is today.
Art Earick, emeriti and a founding professor of geography, spoke of arriving on the college campus after driving west from Stillwater, Okla.
"At first, all we saw were orange groves and then there was a place where a couple of trees had been chopped down and there were two little buildings," he recalled. "My wife looked at me and said, 'You're going to start teaching HERE this fall?'"
Earick's first office was shared with seven office mates. When he lectured to students, it was sometimes hard to be heard over the clanking of pipes in the building.
"When the buildings started going up, there was one place that inspectors wouldn't approve for students because of safety hazards," he said. Then he laughed, "so they moved the administrative offices in there.
"But despite all that, it was the greatest place with the best people you'd ever want to meet," he said.
The group also recalled how the Geography and History departments wanted to make their area look more cheerful. Giles Brown, one of the university's founding deans, decided to have a mural of a world map painted on the walls.
"Any truth to the rumor that there was an extra continent on that map?" asked one of the audience members. At that, de Graaf smiled. "Well, there were flaws — the continents themselves weren't to scale and the edges were just sort of curved, but I don't recall an extra continent."
Elaine Weidner, a former administrative assistant, remembers the early days when she served as department secretary for multiple departments at the same time. During her 25 years on campus, she worked for Afro-Ethnic Studies, Chicano Studies and Philosophy, and was involved with the development of the Women's and Asian studies programs.
She also remembers working with faculty members on Martin Luther King, Jr. projects, a program to introduce children of migrant farm workers to college, the first philosophy symposium, and watching the elephant races, not to mention the protest marches that came later in the '60s and '70s.
"The growth of this campus has just been tremendous," she said. "It's just wonderful. When we first came out here, there was nothing. The community just grew around the college."
Today, de Graaf is at work on a book about the history of Cal State Fullerton that he hopes to finish soon.
"These buildings," he said with a sweep of his arm toward the campus, "are a monument to the educational process."