Fundraising Targets Within Reach
Donors Support College for Business and Economics Campaign
September 17, 2007
By Pam McLaren
As construction continues on Steven G. Mihaylo Hall — Cal State Fullerton's new business building — donor support has put the expanded $20 million capital campaign just $2.1 million shy of its mark.
"We have been extremely fortunate with the support that the campaign has received from our loyal and generous alumni and top-level business leaders in Orange County," said Marcia Harrison, director of development for the College of Business and Economics.
The campaign will help fund not only the construction of the five-story, 195,000-square-foot building, but also create endowments for student scholarships, academic programs and centers. Among the programs being funded is a $1.5 million endowed chair in family business named in honor of its major benefactor Rick Muth of ORCO Block, and a $5 million endowment effort for the Center for Insurance Studies.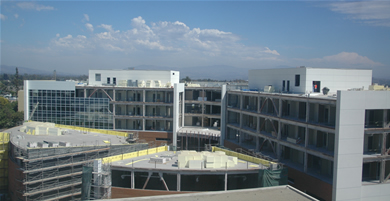 Earlier this year, the college launched a phone and direct mail campaign encouraging alumni to "Be a Part of History" by purchasing: one of 120 bronze tiles that will be displayed in the building courtyard; one of 50 computer stations that will be housed in a student computer lab; or one of 24 trees that will be placed in groves at the west and north east sides of the building.
"This allows alumni to leave a legacy through gifts that enhance the new building and the student's educational experience," said Harrison.
Mihaylo Hall is named in honor of the founder of Phoenix-based Inter-Tel, a publicly traded provider of communications hardware, software and services. The CSUF alumnus has committed $4.5 million in pledges and contributions to the College of Business and Economics.
The new building will bring together the college's academic and faculty offices into one location and will feature technologically advanced classrooms that will "enable us to provide a world-class business education and an optimal learning environment for our students," said Anil Puri, dean of the college. It also will house computer labs, student support facilities, administrative and office space, as well as the college's centers and institutes.
Construction began in 2005 and "is on schedule for completion in June 2008, said Dave Fernandez, project manager. The project is roughly 65 percent through the duration of construction..
For more information about the campaign, contact Harrison at mharrison@fullerton.edu, or call 657-278-4869.