Art 4 Health
Exhibit Examines Connection Between Art and Health
October 1, 2007
By Debra Cano Ramos
Art student Kate Snow-Cunningham's inspiration to create her illustration for the new exhibit, "Art 4 Health" at the Student Health and Counseling Center, is her mother, a breast cancer survivor.
"I wanted to capture the hope of being a survivor of breast cancer — not the loss often associated with the disease," said Snow-Cunningham.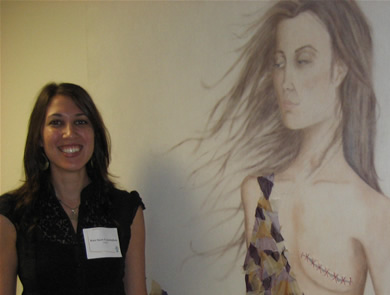 Art major Kate Snow-Cunningham was inspired by her mother, a breast cancer survivor, to create her work of art
The junior art major was among artists, staff, faculty and community members who attended the Sept. 15 reception of the Art 4 Health exhibit held during Cal State Fullerton's 50th anniversary kick-off celebration.
To create the larger-than-life portrait, Snow-Cunningham used women's makeup, primarily blush and eye shadow. With her mother by her side, she explained that her piece depicts the celebration of surviving the deadly disease, since often, women who have had a mastectomy "feel that they are stripped of part of what makes them a woman."
Teri Snow, who was diagnosed with breast cancer in 1999, lauded her daughter for creating artwork that is "over the edge."
"You can't help but have a reaction to it," she said. "But it is what it is."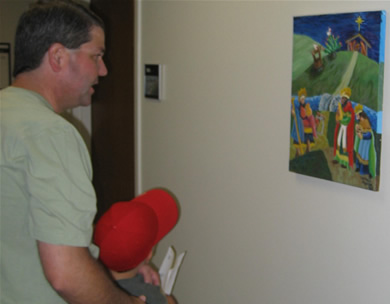 Visitors to the Art 4 Health exhibit opening on Sept. 15 view Consuelo Aguilar's
(B.F.A.-illustration '00) piece titled, 'Three Kings.'
Artwork featured in the exhibition depict personal stories about the artists' own health issues or illnesses and conditions affecting their loved ones. One artist created an assemblage depicting how his father, suffering from Alzheimer's disease, lost his memory and control of his life. Other works are tied to infertility and high-risk pregnancy, heart problems, the birth of a child and mental health well-being.
The exhibit's purpose is to create more awareness about the campus health center's services for students, said Howard Wang, associate vice president for Student Affairs and acting executive director of the Student Health and Counseling Center (SHCC).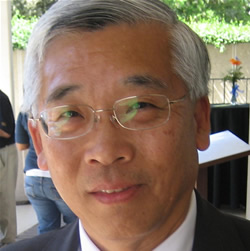 Howard Wang, associate vice president for Student Affairs and acting executive director of the Student Health and Counseling Center (SHCC)
"Through this exhibit, we wanted to provide the link between art and health — the healing of mind and body," Wang said. "Some people will have reactions to some of the pieces, and some may not agree, but that is the whole purpose. We want to elicit feelings and connections between art and health."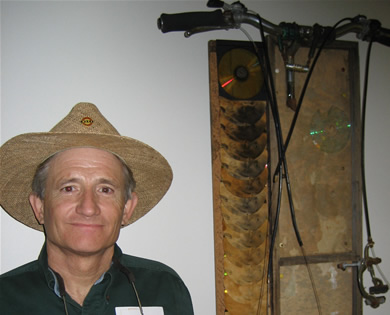 Alumnus Leslie Caldera (B.A. art education '75) created an assemblage, depicting his father's battle with Alzheimer's disease.
The concept for Art 4 Health came about when SHCC management members visited neighboring Southern California College of Optometry and saw an art display created by visually impaired people. The display sparked excitement to present a similar concept for the health center, explained Cathy Felix-Baker, SHCC assistant director.
Last March, the process began for the creation of the exhibit in collaboration with College of the Arts, said Cheryl Schriefer, a visual arts lecturer who coordinated the juried exhibit. The exhibit highlights the work of 22 art students and alumni who contributed 63 works of art using watercolor, photography, acrylic and other mediums.
"These conceptual manifestations by visual artists examine health in the process of living; it's a celebration of life," said Schriefer. An estimated 15,000 students are expected to view the exhibit, which continues through July 2008.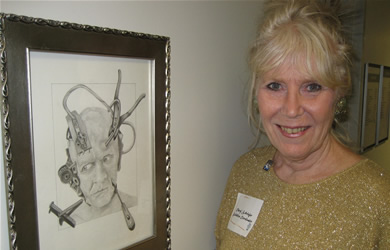 Alumna and art lecturer Cheryl Schriefer coordinated the Art 4 Health exhibit, which is open by appointment through July at the Student Health and Counseling Center.
The exhibit pieces are located in the hallways and in the waiting area of Student Health Services, as well as the waiting area of the Counseling and Psychological Services area, Felix-Baker said. To guarantee patient confidentiality, the exhibition is open to students without a scheduled health or mental health appointment and to the public by appointment only.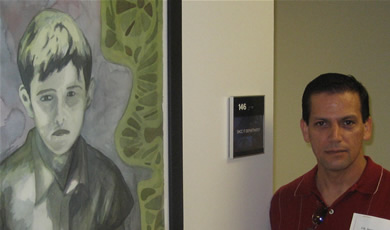 J. R. Jauregui, who graduated in 2007 with a bachelor's degree in art with a concentration on teaching, with his work 'Rami.'
"We hope it will not only create a soothing and enjoyable experience for our students, but will also open a dialogue for them in their minds about their health," Felix-Baker said. "We also hope that through the beautiful art pieces displayed in our two buildings, it will remind our students that there are truly creative ways to express their feelings, their experiences, their life struggles and their losses — and that it will constantly remind them that health is all we have to achieve any goal we aspire."
To schedule an appointment to view the exhibition, call 278-2821.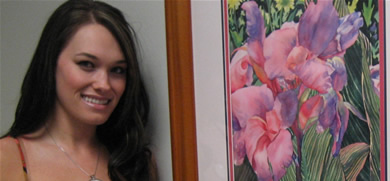 Art student Lauren Whitlock created 'Getty Gardens #2' for the Art 4 Health exhibit.