The House That Junn Built
Associate Dean Builds Homes for Refugees in Armenia

December 20, 2007
By Mimi Ko Cruz
The Gevorgyans, a refugee family in Armenia, are celebrating the holidays in their own home, thanks to Ellen Junn, associate dean of the College of Health and Human Development, her daughter and other Habitat for Humanity volunteers.

The Gevorgyan family of eight arrived in the Armenian village of Khor Virab from Baku during the Nagorno-Karabagh war in 1988. They were housed by various villagers until 1990, when they were able to obtain land and permission to build a house. By 1992, they completed the home's basement themselves, but were unable to finish construction due to inflation. Their income, $25 a month from farming and animal husbandry, could no longer pay for construction materials and the house stood unfinished with an aluminum roof and a few walls made of volcanic brick for 15 years.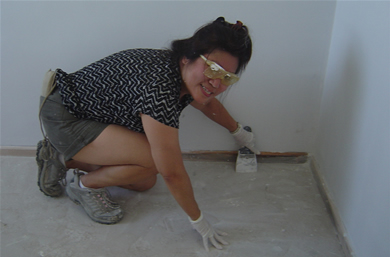 They lived in the basement until earlier this year, when Junn, her daughter Anna, and 11 other Habitat team members erected rooms, plastered and painted walls and made the place livable.

During their two-week stay, the volunteers also completed another home that had stood unfinished for more than a decade. It was for the Misakyan family, who also had been living in their basement.

"The families are so sweet, loving and grateful," Junn said. "There were lots of tears of joy when we finished."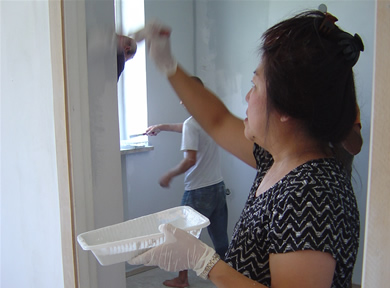 She and her daughter, a 17-year-old senior at Troy High School in Fullerton, helped Habitat for Humanity build two homes in Santa Ana five years ago and got hooked.

Habitat is a nonprofit organization that seeks to eliminate homelessness around the world. It has built more than 225,000 houses. For more information, visit www.habitat.org.

"To me, it's very important to try and give back because I feel so fortunate to be living in our country and, I want Anna to understand just how privileged we are in this country, to learn about a different culture and the value of being a volunteer," Junn said. "I think the experience of building homes for those less fortunate makes us stronger, more understanding and compassionate human beings."

Junn said that when she went to Thailand in 2000 to establish relationships with universities as part of a Fulbright grant that she secured, "the poverty and pollution was surprising."

That's when she decided her daughter needed to learn that many Americans take their comfortable lives for granted.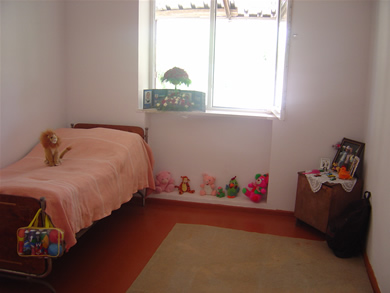 This is one of the completed bedrooms in one of the houses.
"I wanted her to appreciate what she has and to gain a sense of wanting to give back, so we signed up with Habitat," Junn said.

Her daughter, who plans a career in social science, has learned the lesson and said "she is impressed with how people, even in such dire poverty in Armenia, seemed very content and hard-working," Junn said.

"As an academic," she said, "I have experience with and know the power and efficacy of making larger social change via legislation and political advocacy, but sometimes, when political forces move slowly, I also find value in throwing my efforts at a more micro-level, taking time to build homes for one family at a time. For me, it was a true privilege to be part of this small, but significant effort."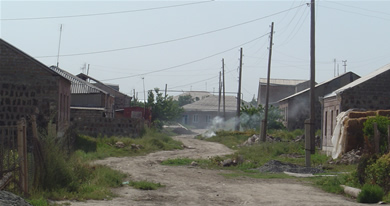 This is the Armenian village where Junn and other Habitat for Humanity volunteers completed two homes.