Students Travel to Brazil as Part of Marine Exchange Program
February 12, 2007
By Debra Cano Ramos
Spending six months in Brazil as an exchange student was a chance of a lifetime for biological science major Ricardo Uriostegui.
"It was paradise-like with the magnificent waters and beaches with glimmering sand," said Uriostegui, who had never lived in another country before traveling to the South American country.
The imposing beaches, crystalline ocean and majestic natural beauty of the country quickly captivated him. Even the sight of a unique fig tree, which he studied about in an ecology class the semester before he left for Brazil, was awe-inspiring, he said.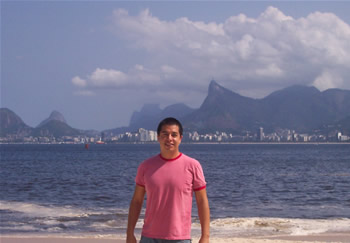 Ricardo Uriostegui on the beach in front of his apartment in Niteroi.
"I never dreamt of seeing this fig tree live in person — and in Brazil."
Fellow student Rosemarie Alor agreed that it was one of the best experiences of her life.

"I'm very thankful to have had the opportunity both personally and academically," Alor said.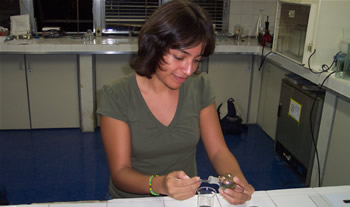 Rosemarie Alor, a Cal State Fullerton senior, conducts research in a marine biology laboratory, collecting green alae in powdered form from a round-bottom flask. Alor was one of six students who participated last year in a student exchange program in Brazil.
Uriostegui and Alor are among students from the College of Natural Sciences and Mathematics selected to participate in the Brazil exchange program, established in 2005 and aimed at furthering education in coastal marine management. CSUF and the University of Connecticut, along with two Brazilian universities, Universidade Federal Fluminense and Universidade Federal da Paraiba, are program participants.
p> Steven N. Murray, dean of the College of Natural Sciences and Mathematics, spearheaded the program, which has received $69,200 in funding from the University of Connecticut since the program began.
The program, in which a number of NSM faculty members serve as mentors, was established to promote better understanding of the scientific and socioeconomic processes, as well as the ramifications, of sustainable coastal resource management, Murray said. The semester-long program also has an additional six-week, intensive language course in which CSUF students learn Portuguese.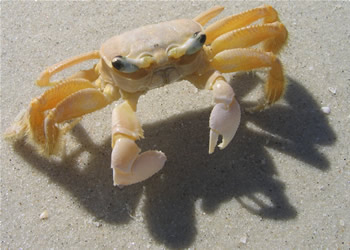 A close-up look at a crab captured at Arraial do Cabo, Brazil.
"This program is a great learning experience for students," said Murray, an international expert on coastal marine ecosystems. "We need to give students as many opportunities as we can to experience different cultures and to visit different parts of the world so they can develop a global view of environmental problems and management efforts in diverse coastal areas."
This semester, Israel Adame, Charlotte Greene and Maribel Umali have ventured abroad to the Latin American nation to study the marine ecosystem there. Six CSUF students spent spring 2006 in Brazil while six Brazilian students — two in fall 2005 and four in fall 2006 — came to Orange County and CSUF.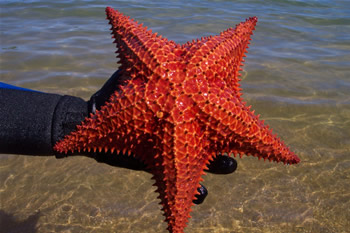 A starfish found at Angra dos Reis in Brazil.
While the focus of the program is about science and research, CSUF students noted that they get a broad education that literally is a life-changing experience.
During their stay in the Rio de Janeiro area, both Uriostegui and Alor learned to speak Portuguese, made lifelong friends and experienced Brazilian food, history and culture first-hand. Both also adopted a healthier lifestyle, including walking to get places, exercising and eating a better diet (with each shedding unwanted pounds).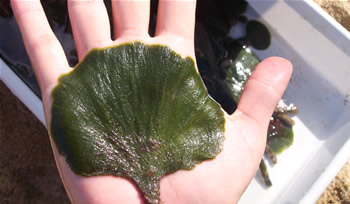 Cal State Fullerton students Ricardo Uriostegui and Rosemarie Alor collected green algae — like the sample pictured — from the ocean in Angra dos Reis — a beach about two hours from Rio de Janeiro — for their research project in Brazil.
"Now I'm trilingual," Uriostegui smiled, adding that he'll graduate in June with a double major in Spanish and biological science with an emphasis in cell and developmental biology. "The people there are so welcoming and treat you like family."
He also developed a passion for soccer — and "carnival," the springtime festive celebration, which he described as a "magnificent event … the true essence of Brazilian culture."
More importantly, aside from learning about the country's language, culture and people, the CSUF students had the opportunity to participate in scientific research. "The chance to do research in Brazil is what motivated me," said Alor, whose future plans include plans medical school to become a pediatrician. "It was hands-on research; we actually lived it."
For Uriostegui, who also plans on attending medical school in fall 2008 to become a family physician, "I learned what it meant to be a scientist out in the field and in the laboratory."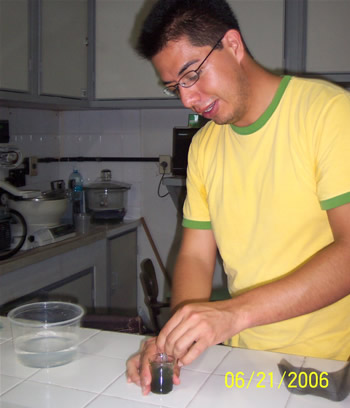 Ricardo Uriostegui mixes the powdered form of the green algae as part of his research studies while an exchange student in Brazil.
Their research in Brazil focused on evaluating the defense mechanisms of green algae (Avrainvillea elliottii). "By further studying Avrainvillea elliottii, we might actually be able to find new chemical properties that can help us understand its intricate relationships with small invertebrates, vertebrates and other flora found in the close vicinity of this green alga," Uriostegui said.
They attended classes and conducted research at Universidade Federal Fluminense where Renato Crespo Pereira, a professor of marine natural products and minerals, mentored them. They also visited beaches and marine ecosystems (that they once had read about in college ecology books) in order to collect samples for their research.
"It was amazing," Uriostegui said. "Because after collecting fan-shaped seaweeds, we were relaxing on the warm, brown clear sand, and on our way back home, our feet were covered by a bunch of glittery particles. I had never seen such a thing."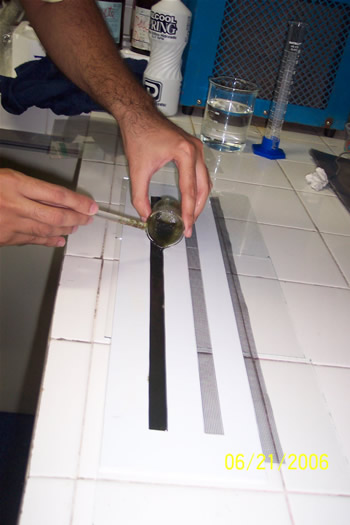 Research being conducted using green algae collected in Brazil.
Alor, who is completing a major in biological science and a minor in chemistry, said that she also conducted immunology research and was exposed to other medically-related studies while working with marine life. "It was interesting to see a medical school in Brazil and to get an insight about how medical school here might be," she said.
"Even though Brazil may still be considered a third world country, it has natural beauty that exceeds its economic and social problems," said Uriostegui, who is working with Alor on an honors project related to their Brazilian experience. "Without a doubt I will go back again and visit my friends and the wonderful, exotic places that it has to offer. Who knows, maybe one day I will end up living in Brazil because of the charming, friendly and humble citizens who captured my interest."
Alor echoed his sentiments, adding that a program such as this one indeed has many benefits to university students.
"It gave me a chance to relax, explore and think about my future. I came back a much stronger person — more independent and able to face different situations better," she said. "And, I'm also more appreciative of what we have here."