Envisioning the Future
CSUF President and Deans Reveal Their Visions of What The University Might Be Like in 50 Years
August 27, 2007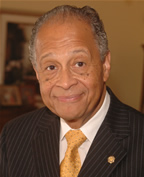 Milton A. Gordon, Cal State Fullerton President
"In 50 years, CSUF will still be one of the most diverse institutions in the state because of its legacy as a university where diversity at all levels works. Also, with the increased use of technology, the teaching and learning process will be 24/7 – anywhere, anytime."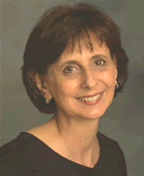 Claire C. Cavallaro, College of Education:
"Students have instant access to unlimited information through microchips implanted in their brains and wireless connectivity to data banks. Rather than focusing on transmission of knowledge, teachers will help students learn to manage and use this vast and constantly evolving body of information. The College of Education is internationally renowned for its cutting edge programs that prepare teachers to facilitate this type of learning."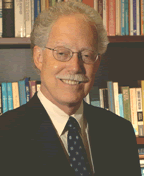 Thomas P. Klammer, College of Humanities and Social Sciences:
"High speed, wireless, interactive video communication and virtual environments will mean that getting a college degree will not require students to commute to campus, and faculty will teach from home or other remote locations on another continent or from the moon colony. More students will return to the university in their 50s, 60s, 70s and beyond to prepare for a second or third career, particularly since the concept of retirement is likely to disappear. The College of Humanities and Social Sciences' programs will benefit enormously from the engagement of older students seeking to enrich their lives through studies in literature, philosophy, religion, languages, history and other humanistic fields."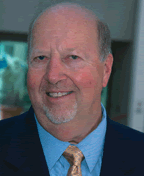 Steven N. Murray, College of Natural Sciences and Mathematics:
"As we move toward the next half century, there will be an increasing need for expertise in science and technological fields and CSUF will become a major, regional producer of graduates with these skills. Environmental problems will become more widespread and CSUF will have responded by creating interdisciplinary programs that produce graduates with science and technical knowledge and the socio-economic and political skills to effectively address these complex issues. With new technologies, parking services will become 100% effective in ticketing students, faculty and staff who incorrectly park their gas and oil-dependent 'hover crafts' for even a few seconds."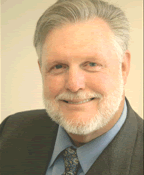 Harry L. Norman, University Extended Education:
"In 2057, University Extended Education still will be providing lifelong learning opportunities and recruitment, retention and personal development solutions. However, there will be a vast array of formats and delivery methods, such as a two-week course in brain surgery for nurse practitioners, in which the instructional materials include the use of cloned brain cells. Or, if global warming continues, our adaptability will allow us to offer tribal hunting and gathering 101."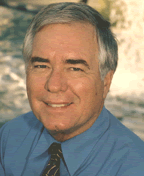 Rick D. Pullen, College of Communications:
"CSUF will be the tail that wags the Orange County dog. It will have expanded to neighboring acreage, consuming space from Yorba Linda Boulevard to Chapman Avenue, will serve more than 100,000 students via new technology and campus facilities and will have placed USC and UCLA in its shadow. Students in the College of Communications will be using new media to learn from home as well as from campus and will spend more time working with state-of-the-art technology as part of corporate partnerships with the media throughout Southern California."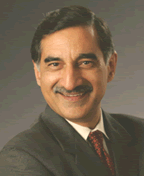 Anil K. Puri, College of Business and Economics:
"Global corporations, ubiquitous communications and space flight will be norms 50 years from now. Flight across continents will take no more than a few hours and biologically engineered babies will meet desires of the most demanding of parents. Profit maximization still will be the driving force of the world economy. Mihaylo Hall will be the hub of world-class management education, the College of Business and Economics having expanded its international collaboration. Most education will be delivered on demand anywhere in the world."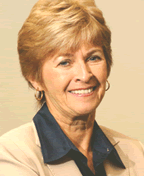 Roberta E. Rikli, College of Health and Human Development:
"Fifty years from now, I think Cal State Fullerton's enrollment will exceed 50,000, but with at least half of the students taking courses online. Their average age will be 35, with many students already having completed their majors and taking additional courses just to keep up with the fast pace of information expansion. In the College of Health and Human Development, I predict that we will have online options for most of our degrees and, we will have added at least five professional doctorates in areas such as nursing, social work, counseling and kinesiology."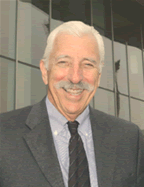 Jerry Samuelson, College of the Arts:
"With the completion of the new Performing Arts Center in 2006, we finally realized the dream of a dynamic creative environment for the serious study of music, theater, dance and the visual arts. The challenge now is to go beyond the dream to use the physical environment to continue our goal of professional and creative excellence. Today, there is an amazing creative spirit within the college. This energy will support our educational mission, and our programs, exhibits and performances will enrich the arts scene in Orange County."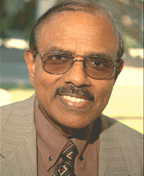 Raman M. Unnikrishnan, College of Engineering and Computer Science: "It's 2057 and I am peering out of the windows from the 40th floor dean's office where the old computer science building once stood. My building dwarfs the other skyscrapers on campus. A tall parking structure, fully equipped with hydrogen fueling ports, spans the entire 57 Freeway, adjoining the campus. CSUF, the largest university in the western hemisphere, also holds the NCAA championship titles in baseball and football, having defeated powerhouse teams from UCI and USC, respectively. The College of Engineering and Computer Science now is the largest college. Many faculty members teach classes from remote sites on the other side of the globe, using the simultan-eous language translation service. Wearable computers and excellent technical support from overseas make it possible for students to learn and drive at the same time.
By the way, I have just been honored as the oldest dean in the universe, but I am not the oldest faculty member."