Summer Travel Journal: Taiwan
John Hickok
July 27, 2006
Greetings colleagues,

The month of July is nearly over, and with it the final stop of my Asia trip: Taiwan. I am now concluding all my research, so you can expect to see me back at CSUF in August. It will be terrific to see you all again.

A few comments about the library conditions in Taiwan. Taiwan follows many of the same characteristics as my report on Japan and Korea last month. As one of the more technologically advanced countries in Asia, I saw — not surprisingly — ample databases, online catalogs, computers, Wi-Fi access and other features throughout libraries. Many even have the same "look and feel" as top U.S. academic libraries (such as National Taiwan University — a very extensive collection).

Reference and instruction services varied more than I expected. A factor for this may be the variety of backgrounds among librarians. Some gain traditional training domestically, while others bring back new ideas with degrees from American universities. For example, the library director at the Taipei Public Library — with a Ph.D in LIS from the United States — has organized fantastic services and outreach programs; everything from database instruction workshops to video plus lecture screenings. In fact, there was more emphasis on user education there than at several of the academic libraries I visited. A factor toward this would be the still-lingering tradition among faculty/administrations that libraries are merely "repositories of materials" rather than active centers of learning.

Probably due to the decades of friendship between Taiwan and the United States, I saw many examples of U.S. library features in Taiwan. American students studying abroad there would not feel too much "library culture shock" as in other Asian countries.

I look forward to seeing you all again next month.

Until then, from Asia,
John

In the lobby of one of Taipei's university libraries. The statue in the rear is of Chiang Kai-shek.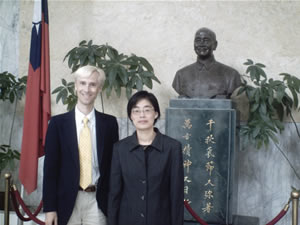 This banner in an academic library is promoting its new "e-learning commons." I thought this was interesting in light of our own information commons plans

This banner in the Taipei Public Library was a delight to see — promoting the message that search engines are not the end-all for information, and to utilize librarians instead. Hooray!
Read more about John's Travels...