Wave of the Past
Researchers Travel to Thailand to Record History of Devastating Tsunamis
May 4, 2010
By Russ L. Hudson
Two geological sciences faculty members and two senior geology students recently flew 18 leg-cramping hours so they could study the effects of tsunamis on Kho Phra Thong, a resort and fishing island just off the west coast of Thailand.
In 2004, Kho Phra Thong was hit hard by the waves that killed more than 200,000 in 14 countries when the Sunda Trench under Sumatra ruptured, causing an earthquake and tsunami. An estimated 30 people on the island were never found. When the waves receded, a layer of sand dragged from the ocean floor was left. Other tsunamis over millennia also left sand or other evidence.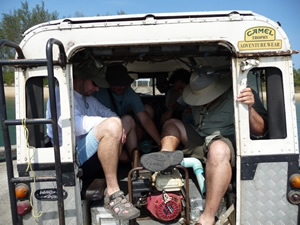 Equipment, tools, water, gear and the research team all had to fit into the back of the old Land Rover on Kho Phra Thong island each day. Photo courtesy Brady Rhodes.
Vegetation reestablished itself between sand left by tsunamis and soil, creating a scientific record within the alternating layers that prompted professor Brady Rhodes, associate professor Matthew Kirby, and Robert Leeper and Willard Frady to travel to just north of the equator on the Indian Ocean. A $20,000 National Geographic Society grant supported the effort.
The team commuted more than two hours each way between the Kun Ta House lodge near Kura Buri and the work sites, using a rental car and transportation not often seen in Southern California: Long tail boats – long, narrow boats with propellers on a long pole - and a battered Land Rover with metal benches, two gears and no brakes. With each change, gear, water, a pump and equipment had to be transferred. "The dirtiest part of the procedure was the drive up the mostly unpaved, bumpy island road," Rhodes said. "We, the gear and the inside of the Land Rover were a uniform gray."
One thing went very smoothly: the Land Rover driver was the island's top government official "and becoming a pretty good geologist himself," Rhodes said. If the team needed permission for a new site, they simply turned to him.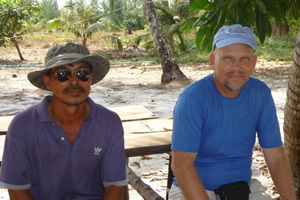 Brady Rhodes, right, and Khun Bancha, the driver-guide-top official on Kho Phra Thong take a break. Photo courtesy Brady Rhodes.
Once at a work site, Frady spent much of his time walking a grid from the shore into the deep brush, taking GPS readings or helping explore for trench sites to get information-packed soil samples. Once trenches – which filled with groundwater as fast as they were excavated - were dug, Frady had time for more readings while others stood in mud taking samples.
"We hit the jackpot," Kirby said, explaining one trench find "with clearly layered soil that definitely included the sand deposited by the 2004 tsunami, as well as other clearly sandy layers below."
Results from the analyses, said Rhodes, "will tell us how often tsunamis hit (and) how severe, from how deep they brought up bottom materials … all the things that show the severity and frequency of tsunamis.
"That will inform us whether tsunamis usually sweep across the island or if there are safe zones. That, in turn, will help us educate the residents," Rhodes said, including when to head for safer areas immediately if the shoreline retreats. Curiosity can draw people to watch … the worst thing they can do.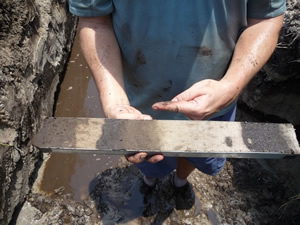 Matt Kirby shows a soil core sample just taken. The light-colored layers are sand, which Kirby reports was likely laid down by a tsunami. Further analysis will determine if a tsunami deposited the sand or if that part of the island was a beach at some time. Photo courtesy Brady Rhodes.
Rhodes said there is a still lot of data to analyze, but it looks like there may have been four big tsunamis that occurred in the last 3,000-4,000 years. There may well have been smaller ones, too.
At the end of the Thailand work the team shipped 22 core samples back to California. Those samples will stay in Kirby's walk-in freezer for Leeper, who will spend about 25 hours a week this summer determining the age and composition of the layers. As a side benefit, the samples also could indicate what grew and the climate on the island at the time periods reflected in the layers.
"I'm looking forward to it," said Leeper. "Fieldwork is exciting, but the excitement of unraveling secrets in the lab equals that."
Kirby's labs will handle most of the analysis, labs at UC Irvine will conduct carbon dating and scientists at Thailand's Chulalongkorn University will analyze samples using optically stimulated luminescence equipment to tell a sample's age by the glow of quartz crystals in the soil.
Frady will correlate the GPS sites he recorded across the island to Leeper's data to determine how the island grew, shrank and changed over time, including sudden changes … as from tsunamis.
The recent overseas experience changed Frady's future goals path. "I put my wife through college, including a bachelor's, teaching credentials and two masters. I was glad to do it. She said it was my turn, so I enrolled at Fullerton College in 2005 and Cal State Fullerton in 2008 to get a bachelor's degree. Now that I see what fieldwork is like and how it comes together, that's what I want. I want to go for a master's now."
Rhodes brushed off the fieldwork hardships. "I hope I keep getting grants so I can go back. Learning more is what's important."
The rest of his team agrees.
Videos
Student Robert Leeper videorecords a typical work site on Kho Phra Thong, Thailand, where faculty members and students gathered soil samples to study the effects of tsunamis:
Matthew E. Kirby, associate professor of geological sciences, captures a bit of what the ride is like in a longtail boat while conducting tsunami research in Thailand. Fellow geological sciences faculty member Brady Rhodes appears twice in the video.