Summer Fun and Learning
Sports, Art and Math Programs Available
May 18, 2010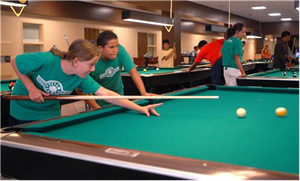 Two campers play a game of pool as one of the many activities held during the June Titan Sports Camp. The annual summer program is offered throughout the summer.
Youngsters of all ages have plenty of opportunities to learn new skills and have fun taking part in one or several of the summer camp programs being held on campus this summer.
Art, Math
University Extended education is offering Art Camp for children 7 to 14 years of age, as well as weekly classes covering such topics as algebra I for 12-14 year olds, geometry for 13 to 16 year olds, and Algebra II for 14 to 18 year olds. There also are courses in drawing and painting for children from 8 to 12 years of age.
Art Camp is a two-week, daily program in which students have the opportunity to learn art concepts, methods and exhibit their work. Two sessions are offered, July 12-23 and July 26-Aug. 6.
The math and drawing courses are scheduled for two hours a day with five meetings each and begin as early as July 26. More information can be found at www.fullerton.edu/kidscamp or by calling Judy Strong at 657-278-2796.
Sports
Kids who want to spend the summer learning new games and sports activities can find it through Titan Youth Sports Camp offered by Titan Recreation. They can also learn how to climb rock walls or to enhance their sports performance through these two programs offered in the Student Recreation Center.
Titan Youth Sports Camp is open to youth from kindergarten to eighth grade and is offered in six, one-week sessions beginning June 21.
Rock Wall Camp, for youth 8 to 13 years of age, is focused on skills and safety techniques. The weekly sessions begin June 21.
The Sports Performance Enhancement Camp, for young people entering the seventh through 12th grades this fall, focuses on sport-specific skills with emphasis on speed, agility, strength training and conditioning. Two three-week sessions are offered beginning June 22. The program runs Tuesdays, Wednesdays and Thursday.
Learn to Swim
The annual Learn to Swim Program, certified by the American Red Cross, is offered for children six months and older; adult classes also are available, as are private lessons. Each Monday-Friday class meets for 30 minutes in 10-day sessions. Sessions are held from June 14, June 28, July 12 and July 26. Saturday sessions also are available.
For more information, call 657-278-PLAY or go online to http://tysc.fullerton.edu.