Artistic Creativity Shines
Five Titans Take Top Honors in Hollywood Reporter Competition
June 8, 2010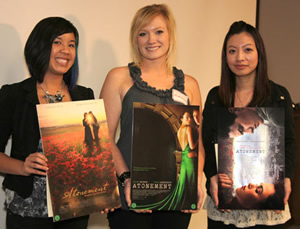 Proudly showing off their winning poster entries are, from left, Diane Nguyen, Nicole Beesley and Yu-Ting Huang. Photo by Cheryl Savala-Lalicker
Cal State Fullerton senior bachelor of fine arts students have brought home five of the six top awards presented for posters and trailers at the 9th annual Key Art Awards Student Competition held last month. The contest is part of the Hollywood Reporter's annual Key Art Awards, which honor achievements in motion picture marketing and advertising.
The graphic design students under the direction of lecturer Cheryl Savala-Lalicker (B.F.A. art '89, M.A. art '94) received seven of the 12 nominations in the contest's poster category, while an additional six students under the direction of Christian Hill, associate professor of art, received two-thirds of the nine nominations in the trailer category.
Sweeping the poster category were: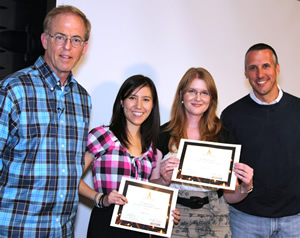 Cal State Fullerton alumnus Jeff Bacon (B.A. art '80), Key Art Awards Advisory Board Member and chairman of the student competition, and David Brooks, Focus Features president of marketing, right, congratulate Jan Injarusorn and Glynis Brown for their winning entries in the Key Arts student trailer competition.
First — Diane Nguyen of Anaheim
Second — Nicole Beesley of Yorba Linda
Third — Yu-Ting Huang of Temple City
Taking two of the top awards in the trailer category were:
Second — Glynis Brown of Rowland Heights
Third — Jan Injarusorn of Anaheim
"Winning first place definitely came as a surprise. There were so many great entries — especially from CSUF — that anyone could've won," said Nguyen, who earlier this year was a semi-finalist in the worldwide Disney ImagiNations contest. "I'm really proud of the Art Department … all the students are so passionate about what they do and we're backed up by some of the most amazing teachers that I've every met during my school career.
"This experience will definitely open up more opportunities in my career … these distinctions will give me the confidence to try more challenging things in the future," said Injarusorn, who was among the nominees for the poster category, as well as winning third place in the trailer category.
"Year in, year out, our students continue to amaze me," said Hill. "This year, in particular, students had less time to complete their entries. So it's a very challenging competition, and Cal State Fullerton has managed to dominate it since the beginning. There's a lot to be proud in our art department, and that's just one of its many distinctions."
"This year's competition was particularly difficult due to the expedited time frame," agreed Savala Lalicker. "But, once again, students stepped up to the challenge with peak performance and unwavering creativity. The high degree of individuality and visual excellence showcased in this group's concepts demonstrates the academic and mentoring strength of the Art Department."
In 2008, Savala-Lalicker's students also won the top three spots in the Key Art Awards student contest. "She remains, by far, the uncontested, highest-winning professor in the nation with the most student distinctions in this competition," said Hill, who, like Savala-Lalicker, use the competition as a class project in their upper-division Entertainment Graphics and Motion Graphics Design courses.
The annual competition received submissions from across the nation. Entries were based on the Focus Features film "Atonement." All schools received copies of the film, in addition to such collateral materials as production stills, logos and images from each.