Surprise Gift
Classic Rock Band Headlines Front & Center 2010, Miller Pledges $25,000
March 2, 2010
The Steve Miller Band, whose pop/rock hits include "Fly Like an Eagle" and "Take the Money and Run," headlined Cal State Fullerton's Front & Center 2010 on Feb. 20, when Miller made a pledge to support Cal State Fullerton with a $25,000 donation.
"You are all to be commended for this," Miller said, looking at the audience from the stage while pausing between songs. "These are rough times; budgets are being cut, and you guys all stood up and came out here and you put your money were your mouth is, and put your wallet on the table. You made it possible for a lot of students to come here and go to school and get a scholarship, so we applaud you for that. Thank you so much.
"I figure if you can put your money out there, so can I, " Miller continued, to widespread applause and announced his own $25,000 donation.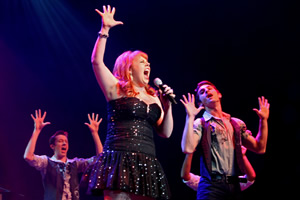 Actress Kirsten Vangsness sings with Cal State Fullerton students. Photo by Karen Tapia
It was a first for the 15th annual event and a welcome surprise to CSUF President Milton A. Gordon.
"That was absolutely a surprise to me," said Gordon, noting: "That's the first time any of the performers actually gave back."
As for the performance, he said: "Steve Miller was really outstanding. ... It was a great night."
Actress Kirsten Vangsness, who served as Front & Center's master of ceremonies, said: "It's good to have someone who is in that position be able to know about the need ... and to celebrate what all of these kids are doing and what the school is doing, and that's fantastic."
Vangsness, who portrays the flirty computer ace Penelope Garcia on the CBS hit drama series "Criminal Minds," is a theatre and dance major from the Class of 1996. She earned her own share of applause when she performed " 'Til the Walls Come Tumblin' Down" by The J. Geils Band.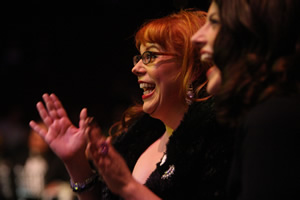 Kirsten Vangsness reacts to a tribute performed by Cal State Fullerton students. Photo by Karen Tapia
Earlier, sitting in the audience at the president's table, she clapped with delight when the students saluted her in song. They performed three versions of "Maria" from "West Side Story," the "Sound of Music," and the band Blondie, and substituted the name Garcia in the lyrics.
Vangness and the student performers joined the band on stage during the encore for the final number, "Jet Airliner."
During the event, the Orange County Titan Award was presented to the Automobile Club of Southern California. CEO Thomas V. McKernan, who serves on the board of directors of the Mihaylo College of Business and Economics' Center for Insurance Studies, was there to accept the award, which honors individuals and entities for their positive influence in Orange County.
Previous Orange County Titan Award recipients include: Orange County Teachers Federal Credit Union, First American Corp., Anaheim Angels, Orangewood Children's Foundation, Emulex Corp. Executive Chairman Paul Folino, Robert and Marie Gray of St. John Knits, and Jim and Patti Edwards of Edwards Theatres.
Previous Headliners
Front & Center debuted in 1996 with Colin Powell as keynoter. Successive years featured: Michael Eisner, Walter Cronkite, Bill Cosby, Tony Bennett, Whoopi Goldberg, Christopher Reeve, Natalie Cole, Kenny Loggins, The Doobie Brothers, Gladys Knight, Chicago, Stevie Nicks and Reba McEntire.
Guiding the event is the university's Blue Ribbon Committee, a group of business and civic leaders dedicated to raising funds for student scholarships. More than 400 students have received scholarships to Cal State Fullerton since Front & Center's launch.
Front & Center's Platinum sponsors this year were the Honda Center, Orange County Register and Pepsi.