Achieving Educational Goals
Seventeen Staff Members Earn Degrees
June 22, 2010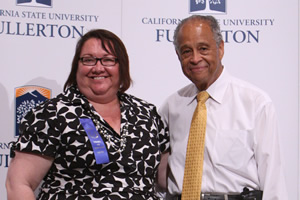 Kandy Mink Salas is recognized by her peers and President Milton A. Gordon for earning a doctorate in higher education. Photo by Karen Tapia
Kandy Mink Salas and Lea Jarnagin joined 15 other staff members to be honored for their academic achievements during the June 4 Staff Recognition and Appreciation Day festivities.
Jarnagin, assistant to the vice president for student affairs, and Mink Salas, dean of students, recently graduated with doctorates of education. Jarnagin earned an Ed.D. in educational leadership from UCLA; Mink Salas earned her doctorate from Claremont Graduate University.
"I am thrilled to be finished with my Ph.D. in education," said Mink Salas. "My experience at Claremont Graduate University was outstanding. Since my position as dean of students is somewhat demanding, I have worked on the degree bit by bit over a number of years, always with the support of my husband, supervisor and my staff.
"During this last year when I was focused on my dissertation research and writing, my students and co-workers were very patient. I used a number of vacation days to conduct my research and complete the writing, so I am looking forward to a real vacation sometime this next year!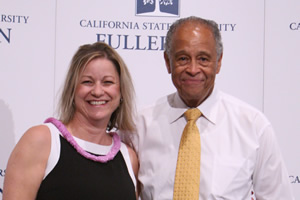 President Milton A. Gordon gives his congratulations to Lea Jarnagin on earning her doctorate this year. Photo by Karen Tapia
"With the completion of my degree, I plan to continue serving as a university administrator and hope to provide leadership and direction in Student Affairs for a number of years," Mink Salas added. "I also plan to teach courses in higher education master's or doctoral-level classes, to help prepare the next generation of leaders."
Jarnagin also was thrilled to have completed her doctorate, calling it "an achievement that represents a professional goal and a personal dream. The completion of my Ed.D. wouldn't have been possible without the support of so many people in my life. I credit my vice president for his guidance and encouragement. Family and friends were critical in keeping me motivated, particularly during the last year of writing the dissertation.
"My future plans include continuing my role as a university administrator and teaching part time in a graduate preparation program in student affairs," Jarnagin added.
Other staff members who earned degrees this year:
Dina Bartoloni, Academic Advisement
M.S. education, Cal State Fullerton
Kerry Belvill, Special Education
M.S. education, concentration in higher education, Cal State Fullerton
Sandra Boulanger, Computer Science
B.A. sociology, Cal State Fullerton
Vicki Brewster, Academic Programs
B.A. public administration, Cal State Fullerton
Elizabeth Buchanan, Disabled Student Services
M.S. education, concentration in reading, Cal State Fullerton
Debra Bush, Student Affairs
B.S. human services, Cal State Fullerton
Jennifer Chung, Budget Operations
B.A. business administration, Cal State Fullerton
Linda Dominguez, Design and Construction
B.A. art history, Cal State Fullerton
Eydie Esgana, Auxiliary Services Corp.
A.A. paralegal studies, Fremont College
Robin Graboyes, Faculty Affairs and Records
B.S. business administration, human communications management, Colorado Tech College
Markelle Gray, University Extended Education
M.A.S. criminology, law and society, UCI
Gaby Guzman, Human Resources
M.B.A., Cal Poly Pomona
Joseph Hackbarth, Admissions and Records
M.S. software engineering, Cal State Fullerton
Stephan Lewicki, College of the Arts
B.A. business administration, Cal State Fullerton
Sun Lim, Distance Nursing
M.S. education, Cal State Fullerton
Anh Nelson, Faculty Development Center
Certificate in professional office administration, Cal State Fullerton