Spring Educational Events
Language Rights Issues, 'A Simple Question' Documentary Film Featured
March 16, 2010
By Debra Cano Ramos
"Why Language Rights Matter" and the screening of a documentary film about elementary school students helping to save endangered freshwater shrimp are free upcoming Cal State Fullerton educational events open to the public, faculty, staff and students.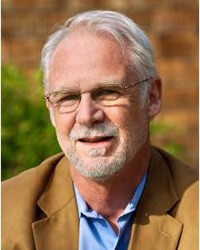 Chris Faltis, who directs teacher education at UC Davis, will speak about why language rights matter March 22 at the Fullerton Marriott.
March 22 Language Discussion
Chris Faltis, the Dolly and David Fiddyment Chair in Teacher Education at UC Davis, is keynote speaker for the Monday, March 22, Researchers and Critical Educators speaker series. Faltis will speak about why language rights matter from a sociopolitical, educational and linguistic perspective.
His research includes bilingual education, English learners and immigrants in schools, critical race theory and arts-based methodologies. Faltis' most recent work includes "Teaching English Language Learners in Elementary School Communities: A Joinfostering Approach."
The 4-7 p.m. lecture and panel discussion will be held at the Fullerton Marriott, 2701 E. Nutwood Ave., adjacent to campus. Faculty members and students are encouraged to attend the 4-7 p.m. event and participate in a discussion of language and language rights issues.
April 12 Documentary Film Screening
The College of Education presents the Southern California premiere of the environmental education film, "A Simple Question: The Story of STRAW (Students and Teachers Restoring a Watershed)," at 4 p.m. Monday, April 12, in Portola Pavilion of the Titan Student Union. The documentary highlights the impact of the Bay Institute's watershed education program and how young students took on the impossible.
The film, by David Donnenfield and Kevin White, recounts the journey of a class of fourth-grade class students and their teacher who decide to save freshwater shrimp, and how the educational project has continued to engage, inspire students, inspire teachers and galvanize the local community. Seventeen years later, the Bay Institute's STRAW program sustains a network of teachers, students and restoration specialists that plans and implements watershed studies and restoration projects in Marin, Sonoma, Napa and Solano counties.
Introducing the film will be Claire C. Cavallaro, dean of the College of Education. In addition to the screening, there will be presentations by Jennifer Ponder, assistant professor of bilingual and elementary education; Victoria B. Costa, Cal State Fullerton's director of science education; film director Donnenfield; and Laurette Rogers, STRAW teacher and project director.
"By holding this special event, it exposes our students and faculty to high quality speakers and the exclusive premiere of an exceptional educational documentary film," said Pablo Jasis, assistant professor of elementary and bilingual education and vice president of RACE.
A trailer of the film is available at www.asimplequestion.org. For more information about the film and STRAW Project, go to The Bay Institute website.
For both events, parking is $8 per vehicle for community members. Parking lot and permit machine locations are posted online.
For more information, contact Jasis at 657-278-7056 or pjasis@fullerton.edu or Daniel S. Choi, assistant professor of educational leadership, at 657-278-3903 or dchoi@fullerton.edu.