Promo Short Stars Robot Boy
Tim Burton's Animated Character Created By Graduate Art Majors
April 13, 2010
By Paula Selleck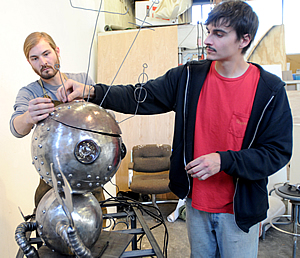 The head of the animatronic sculpture opens and closes; it also contains a brain full of wires that control the robot's movement. Preston Daniels, left, and David Brokaw credit Joe Cariati, who teaches glass blowing at CSUF, and alumna Solange Led with making the glass eyes, and salute alumnus Ryan Ross for his help with electronics. Photo by Kelly Lacefield
The adventures of Robot Boy continue.
Avid Tim Burton fans will recognize the Robot Boy character from the famed illustrator-turned-filmmaker's book "The Melancholy Death of Oyster Boy and Other Stories."
A pair of Cal State Fullerton graduate art majors — David Brokaw and Preston Daniels — collaborated with Burton to create a motorized sculpture of Robot Boy for a Museum of Modern Art exhibition that continues through April 26 in New York City.
Robot Boy has became an animated poster boy for the MoMA exhibition and stars in this promotional short.
Accordingly, the entry to the MoMA website about the Burton career retrospective also features Robot Boy.
Related Story:
Open at MOMA