Prison History
Today's Political Debate on Housing Prisoners Could Benefit from A Look Back in Time
February 23, 2010
By Mimi Ko Cruz
In 1969, the Quick family — volunteers in Ronald Reagan's gubernatorial campaign, advocates of the Vietnam War and supporters of UC Berkeley's student protest crack down, not likely to mollycoddle criminals — became believers in rehabilitation for the incarcerated via California's prison labor camps, Volker Janssen reports in his recent award-winning Journal of American History article.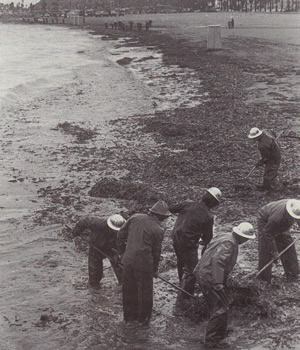 Prisoners clean up the Santa Barbara oil spill in 1969. Photo courtesy California Department of Corrections and Rehabilitation
It was Feb. 25 when the Quicks were caught in a violent Silverado Canyon rainstorm that killed their neighbors. But, they were saved by labor camp prisoners.
"Such encounters were the result and purpose of California's prison labor camps, which had kept a ready army of inmate so-called volunteers for firefighting and disaster relief since World War II," Janssen wrote in his article, titled "When the 'Jungle' Met the Forest: Public Work, Civil Defense, and Prison Camps in Postwar California."
The entire article is available online.
In it, Janssen, assistant professor of history, traces the prison camps to their depression-era beginnings, their nationwide appeal and public support.
Historic Relevance
The topic is timely as California's legislators today struggle with a budget crisis and overcrowded prisons and heated debate on the matters.
Gov. Arnold Schwarzenegger last year signed legislation designed to reduce the state prison population. The law would allow the early release of thousands of "low-level" inmates for nonviolent crimes such as drug possession. While no state prisoners have yet been released, perhaps it's time for a history lesson, Janssen said.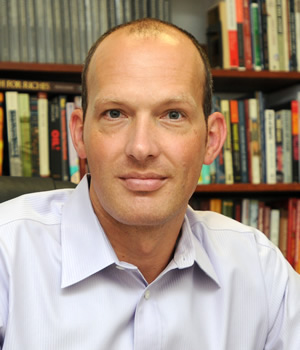 Volker Janssen
"All current debate about the prison crisis in California usually looks no further than the 1980s, which was the beginning of the prison construction boom," he said. "In the context of public works and civil defense against natural disaster, prisoners in the postwar years had surprising opportunities to redeem themselves with local communities and temporarily convinced those on the outside that those on the inside have qualities that make them worthy of freedom and full citizenship. We still have these forest labor camps today, but the public perception of prisoners is dominated by images of maximum-security incarceration, dangerous race-based prison gangs, and overcrowding.
"Just think about it," he added. "In our current public debate, we are not even able to agree on modest reduction in the size of our prison population, despite the disastrous budgetary consequences. I'd like to think that a broader perception of prisoners as capable contributors would alter that public debate and allow us to reduce the massive Gulag that we have built up over the last 25 years or so."
That's why Janssen opened his article with the Quick family example.
"Solid Ronald Reagan Republicans with no sympathies for antiwar protesters or the student protests of the 1960s, they nonetheless found themselves pleading the cause of prisoners from South Central L.A.," he said. "That is not something we find in our political debate today."
Public Learning
Besides provoking such debate, Janssen's article delivers a history lesson that the Journal of American History also is featuring in its online "Teaching" section.
History teachers can access the lesson, based on Janssen's research, and learn how to teach it.
There are several lesson plans with maps, timeline charts and sample questions.
In a letter to Janssen from the journal's editors, Janssen was commended for participating in the "Teaching the JAH" section.
"The selection of your article for publication and as the centerpiece of a Teaching installment suggests how thoroughly your work has impressed our editors and reviewers," John Nieto-Phillips, the journal's associate editor wrote. "Of the roughly 200 article manuscripts we received in the last year, yours is one of 16 to be accepted for publication, and one of 2 to be featured in our Teaching installments."
He added that the lessons are free and accessible by the public.
"History teachers regularly make use of our installments in high school and college classrooms, and these installments have a truly global reach," Nieto-Phillips noted.