President's Associates Honor CSUF Grads
Trio Recognized for Scholastic Achievement, Leadership and Community Service
May 18, 2010
By Pamela McLaren
Updated June 8, 2010
Three outstanding Cal State Fullerton graduates last month were selected for the university's top student awards in recognition of their scholastic achievement, leadership and community service.
This year's honorees are President's Scholars Maureen Fox and Alicia Bernard, recipients of the President's Associates Scholastic and University Service awards, respectively; and Nicole Peeke, who is this year's Outstanding Graduate Student Award honoree.
Maureen Fox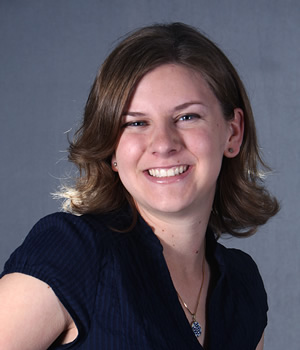 Maureen Fox
When Maureen Fox came to Cal State Fullerton, she had a family tradition to uphold. Her older sister, Jessica (B.A. biological science '05, M.S. biology '07), had also attended Cal State Fullerton as a President's Scholar, the most prestigious status the university accords incoming students.
"She had a really great experience at Cal State Fullerton as a student and as a scholar," said Fox, who graduated summa cum laude with a bachelor's degree in English and communications. "It has been terrific for me, as well, she said."
Books and learning were always favorite pastimes of Fox, who spent so much time reading as a child that her parents would sometimes encourage her to do something else. "I always knew that I wanted to do something related to literature and coming here opened up so many options."
One of those options was the opportunity to study abroad, which she did during the 2008-09 academic year. Fox traveled to the University of Hull in Yorkshire to study English literature and the British perspective to literature, to further her dream of eventually becoming a professor of English at a university campus.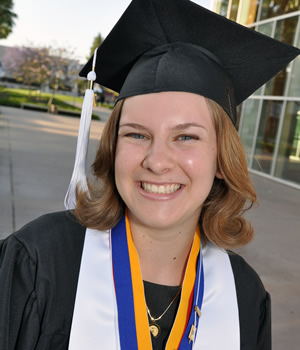 Maureen Fox. Photo by P. O'Donnell
"It was everything that I had hoped for and more," she recalled. "I ended up traveling to 14 countries. It definitely sparked my interest and largely drove my interest in travel writing, which I hope to do while continuing my education."
She maintained a cumulative 3.98 grade-point average during her four-year undergraduate experience and joined the Phi Beta Delta International Scholars Honor Society, Sigma Tau Delta English Honor Society and the National Society of Collegiate Scholars.
This semester, in addition to working as a student assistant in the vice president for administration and finance office, Fox has served as design director of the student-run Tusk Magazine and has been a staff writer on the Daily Titan student newspaper since last fall. "Working on the Daily Titan was a lot harder than I expected, but it taught me a lot and I got to meet great people. The experience will definitely help me in the future."
In addition to her scholastic endeavors, Fox has been active in community service. As a President's Scholar, she served as the organization's representative to Crittenton Family Services, organizing the Santa Scholars program in which scholars provided Christmas gifts for a needy family. She also was a volunteer with Working Wardrobes, a program that provides appropriate clothing to those re-entering the workforce.
Attending Cal State Fullerton has been "incredibly wonderful," said Fox, who will return to her alma mater in the fall to pursue a master's degree in English. "I have a long journey ahead of me, and I know that participating in the English graduate program at Cal State Fullerton is the first step to achieving my dreams. I am determined to make the most of the graduate program, just like I did with my undergraduate studies."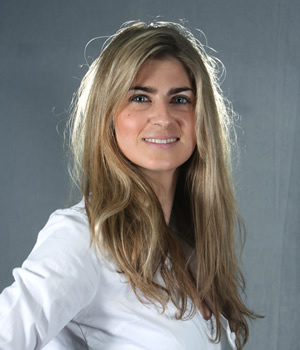 Alicia Bernard
Alicia Bernard
Cal State Fullerton was to be Alicia Bernard's big adventure. A graduate from a small high school in Pine Valley — 97 students in her graduating class — Fullerton was her way of "getting off the mountain and a little out of my comfort zone."
She's never regretted that decision. "I have thoroughly enjoyed coming here. The faculty are all so supportive — not only in my major but in all the courses that I took."
This year's recipient of the President's Associates Graduating Senior University Service Award, Bernard graduated summa cum laude with a bachelor of science degree in health science. She will return to campus this fall to pursue a master's degree in nursing.
During her four years on campus, Bernard has participated in many activities as a President's Scholar, including serving as the organization's treasurer. As a member of the health science honor society Eta Sigma Gamma, the Peer Health University Network and the Student Health Professions Association, Bernard contributed to many charity functions and participated in numerous events to educate her fellow students on health and healthy living. For one such project, Bernard helped develop an outlet for students to share their thoughts and feelings about suicide, offered support and a way to share their own experiences.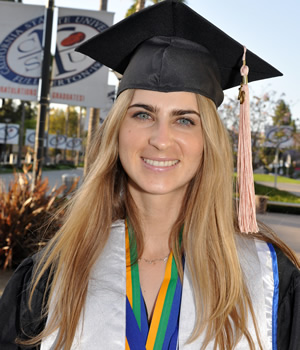 Alicia Bernard. Photo by P. O'Donnell
Bernard is a member of the Flying Samaritans, an organization of doctors, nurses and volunteers that organize and visit a clinic in El Hongo, Mexico, to provide care to underserved individuals in need.
"Cal State Fullerton offered me so many amazing opportunities," said Bernard. "It was the perfect location to get involved in community groups, to develop connections and to build a perfect foundation in my area of interest."
In the community, Bernard was a volunteer at St. Joseph Hospital, where she served more than four hours each week in the general surgery unit. She continues to volunteer in Hoag Memorial Hospital Presbyterian's Clinical Care Extender Program and has been an assessment team member for the Healthy for Life/PE4Me American Academy of Pediatrics.
From helping feed the homeless at the Isaiah House soup kitchen, to volunteering at the hospitals, Bernard speaks of the "dynamic" learning opportunities that helped shape her future.
"Helping patients at the bedside has allowed me to embrace such qualities as compassion, respect and empathy for others. These qualities not only serve as a foundation for effective patient care, but have increased my value of life in general and enhanced my passion for health care."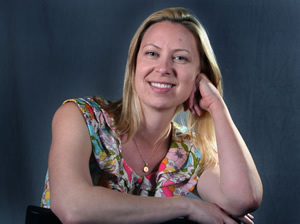 Nicole Peeke
Nicole Peeke
When Nicole Peeke started working at a local shelter for homeless families, she discovered a passion that her undergraduate degree in public relations could not fulfill. That experience — and her own childhood — prompted her to enter the master of social work program at Cal State Fullerton.
"There was a point in my life where I didn't think I would obtain a graduate degree, let alone graduate high school," said Peeke.
Attending a new school, where she felt welcomed with open arms, helped change her outlook and view of the world. She grew more involved in student activities as she completed courses at community college and eventually earned a bachelor's degree that led to work in the entertainment field. Then came employment at a local shelter, which changed her focus and her future.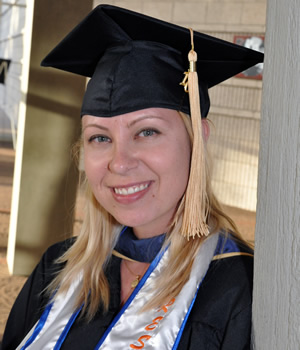 Nicole Peeke. Photo by P. O'Donnell
"I needed to pursue my master's degree in social work," Peeke said. "It's rooting for the underdog. I can't think of any other field that gives that."
During her studies — she is one of 19 members of the second class of students to enter the master of social work program at Cal State Fullerton — she has served as president of the Master of Social Work Association on campus and attended Legislative Lobby Days in Sacramento this spring.
"I was part of 1,200 social workers from across the state to take part. We had training on how to lobby, learned the background and history of bills related to social work and then were able to meet with members of the assembly. It was great!"
This year, in addition to her full schedule of classes, in which she carries a 3.7 grade-point average, and her outreach efforts as part of the MSW student program, Peeke also served a mental health internship at AIDS Project Los Angeles.
"I am constantly amazed and inspired by HIV-positive individuals who strive to maintain a healthy body and mind," said the Monrovia resident. "It has been so rewarding.
"I feel blessed to have had the opportunity to join the Cal State Fullerton program. It's been a very challenging program, but in a good way. I was able to develop strong bonds with my cohort and am especially close to the faculty members who were open and very supportive. They challenged us to grow both personally, as well as professionally. "
This summer, Peeke and her husband, Julian, a history teacher, will take a seven-week road trip before contemplating her next steps toward her goal of earning a doctorate in social sciences.