Thinking on Their Feet
Two Public Relations Students Compete In PRWeek's Competition
February 17, 2010
By Valerie Orleans
Both were nervous.
Neither had been to New York City.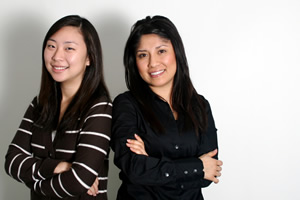 Public relations majors Grace Yu and Leidy Arevalo recently returned from New York City, where they competed in PRWeek's PR Student of the Year Competition. Photo by Mimi Ko Cruz
But for Grace Yu and Leidy Arevalo, seniors majoring in communications at Cal State Fullerton, this was the opportunity of a lifetime. The women recently traveled to New York City to compete in PRWeek's PR Student of the Year competition. And, just days ago, Yu discovered that she had been selected as one of two finalists.
"I still can't believe it," Yu said. "I actually thought I didn't do very well because I was ill the day of the competition." Yu will fly back to New York in March when the winner of the competition will be announced.
Yu and Arevalo were among five finalists selected in this trade publication's national competition. This is the second year in a row that a student from the "Public Relations Agency Seminar" class has made the finals. The class is taught by Lecturer Dennis John Gaschen.
"We had to submit a proposal for a national public relations campaign for Mazda Motors," said Yu. "It included such items as a pitch letter, sample press release, a tweet, and other supplemental materials."
Mazda is a client of contest sponsor Hill & Knowlton, a global public relations firm. The competition allowed students to take a real-world problem and apply their knowledge of public relations. The judges of the Student of the Year contest included representatives from Hill & Knowlton as well as PRWeek.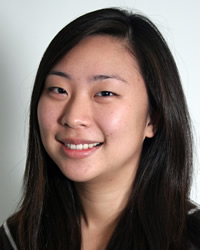 Grace Yu will soon be traveling back to New York to find out if she is the winner in the PRWeek's PR Student of the Year Contest. Photo by Mimi Ko Cruz
The five finalists are then invited to individually pitch this same group in New York. At the hourlong meeting, each finalist is asked to devise an on-the-spot crisis plan.
"They're trying to see how quickly we can think on our feet," said Arevalo.
Both girls credit the PR Agency Management class with helping to prepare them for the competition.
"It's a hard class but Professor Gaschen provides us with real-life examples and brings in guest speakers who talk about their experiences," said Yu. "That class really helped prepare us for the competition."
"Our students really get excited about the competition," said Gaschen. "The case competition gauges a student's ability to blend theory with practice. Both students' approaches were innovative and thorough. Leidy and Grace are fine representatives of our communications program."
For the past eight years, the PRWeek Student of the Year competition has offered undergraduate students an opportunity to compete for a paid internship and cash prize, all on the strength of their strategic communications ideas and presentation.
One college student will be awarded $5,000 and a paid internship at Hill & Knowlton. One runner-up will also win a $1,000 prize and a paid internship at Hill & Knowlton. The winners will be announced in March at the annual PRWeek Awards.