Peace Talking
Cal State Fullerton Model United Nations Team Competing in New York
March 30, 2010
By Mimi Ko Cruz
Omar Torres-Vasquez is "deeply disturbed by the indiscriminate nature of terrorism," and he is calling all nations to unite in an effort to "dispense terrorism in all its manifestations and wherever it may be found."
Torres-Vasquez and 18 classmates in Choudhury M. Shamim's Model United National political science class are in New York this week, competing against more than 300 other Model U.N. teams from around the world at the 2010 National Model United Nations New York Conference.
Cal State Fullerton's team is representing Cuba.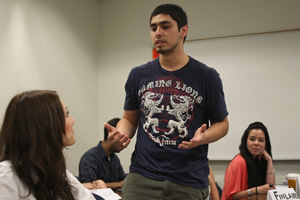 Armando Murillo makes his case for Cuba during a mock Model United Nations session. Photo by Karen Tapia
Torres-Vasquez, the university's Model U.N. Club president, is head delegate and leads the team, which has been split into 10 committees — each discussing different topics. He is taking part in the General Assembly Plenary, where the topics of elimination of international terrorism and environmental degradation will be tackled.
"I will be applying for a position as chair within my committee room," said Torres-Vasquez, a bank teller and junior political science major.
The 28-year-old father of a two-year-old girl, a participant in Model U.N. competitions over the years, said the experience is teaching him lifelong lessons.
"There is no doubt in my mind that the lessons I have learned from my participation with Model United Nations will carry on with me for the rest of my life," Torres-Vasquez said. "Model U.N. has prepared me for the challenges ahead. I wish to pursue the long path toward a Ph.D in world affairs and I believe that Model U.N. has given me an edge toward that realization."
He and his teammates said they're learning that diplomacy and negotiation skills are important in myriad situations.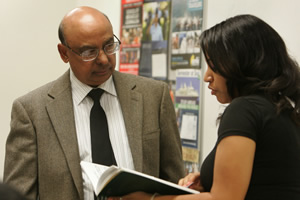 Professor Choudhury M. Shamim, left, listens to Lady McDesmond during a mock Model United Nations conference. Photo by Karen Tapia
For Shamim, professor of political science, that's what it's all about.
This is his 21st year taking his class to the New York competition, considered one of the top Model United Nation contests in the world. He serves as the team's coach. Each year, his class brings home a top team award.
"I train my class to win," said Shamim, who was an ambassador to the United Nations in 1979. "We have a winning attitude."
As part of the course, Shamim teaches his students: the politics and diplomacy at the UN; the art of negotiation and lobbying; how to write resolutions and reports; and the history of the country they are representing (each year, it's a different country).
In addition, Shamim lectures on committee topics. This year's topics include "Promoting Low-Carbon Economic Growth in the Developing World," "Protecting Developing Countries during the Current Financial Crisis," "Addressing the Impact of Hunger on Disease" and "The Privatization of War: Employing and Arming Independent Militias."
Students preparing for this week's Model United Nations competition in New York are, from left: Armando Murillo, N.S. and Jennifer Nakamura. Photo by Karen Tapia
Each student is represented in a committee and learns to give two-minute speeches on his or her topic. The students also come up with ideas on how to solve problems and bring about improvements and development, Shamim said.
He secures a university grant each year to pay for his class to travel to New York. Because of budget cuts this year, the grant funded 80 percent of the cost, Shamim said. The students paid the remaining 20 percent.
Shamim was a delegate of Bangladesh at the 34th session of the United Nations General Assembly 31 years ago. He holds doctoral and master's degrees in international relations from USC, a master's degree in international affairs from Carleton University and master's and bachelor's degrees in international relations from Dhaka University.
He joined Cal State Fullerton's faculty in 1989 and has been teaching the Model U.N. class since. At one time, it was a two-semester course, allowing students the entire academic year to prepare for competition.
"This year, we had budget cuts," Shamim said. "We hope to start the year-round program again when the economy improves."
The students attended Model United Nation conferences at Harvard University and Riverside Community College in February as practice for New York. In addition, they spent many week nights in mock Model U.N. sessions.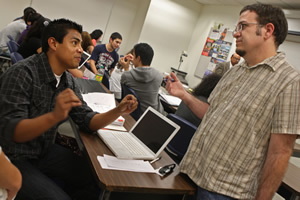 Dave Milbrandt, right, offers debate strategy tips to Angel Melchor. Photo by Karen Tapia
Dave Milbrandt, Shamim's teaching assistant and team assistant coach, said he predicts the students will win the top prize, the Outstanding Delegation Award. He said the award is equivalent to an Olympic gold medal.
"I was a student of Dr. Shamim's in 1992 and 1993 and I attended the National Model United Nations conference in 1992, representing Azerbaijan," said the political science graduate student. "This year's team has worked hard. Dr. Shamim, Omar and I helped mold them into a cohesive, well-prepared group ready to compete against some of the best Model UN debaters in the world."
Because Milbrandt is a history teacher at San Dimas High School and on a field trip with his class in Washington D.C. this week, he is missing the Model U.N. competition, but is keeping in contact via cell phone and said the team is doing well.
In fact, talks today (March 30) might include these comments from Torres-Vasquez:
"Cuba declares that it is impossible to eliminate terrorism if only some terrorist actions are condemned, while others were silenced, tolerated or justified, or if the issue is simply manipulated in order to promote certain political interests. In order to advance our efforts to eliminate terrorism, all manifestations of terrorism must be condemned and punished in any part of the world. Cuba advocates truly effective international cooperation that will make it possible to prevent and combat all acts of terrorism and eliminate its causes."
Competition results will be announced Saturday, April 3.
Cal State Fullerton's team members, their majors and their cities of residence are:
Rashad Abelson, political science and business administration, Corona
Sixtine Bouchard, political science, France
Justin Coburn, political science, Fullerton
Pokuaa Enin, political science and criminal justice, Fullerton
Sylvia Gutierrez, political science, Bell Gardens
Suly Hilario, political science, Norwalk
Amber Hwang, political science, Fullerton
Ibn Kadalim, political science, Anaheim
Andrele King, political science, Moreno Valley
Elliot Lam, political science, Huntington Beach
Lady McDesmond, communications, Diamond Bar
Maurine Mikhail, political science, Egypt
Armando Murillo, political science, Apple Valley
Jennifer Nakamura, communications, Cerritos
Henoc Preciado, English, Norwalk
Crystal Romero, political science, Walnut
Omar Torres-Vasquez, political science, Placentia
Angel Welchor, political science, Long Beach