High Hopes Realized
Anaheim High School Students Become Scientists for the Day
January 26, 2010
By Maria Grant
It was an overcast morning in November when I arrived at the Ocean Institute in Dana Point. I had the secret hope that the sun would break through the clouds as a sign that that day Anaheim Unified High School District students would experience personal breakthroughs in science content understanding and would even be inspired to work and act like real scientists in the field.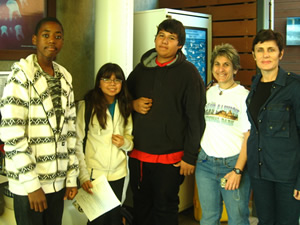 Maria Grant, associate professor of secondary education, far right, and Beverley Berekian, a Cal State Fullerton science education intern, second on right, with Anaheim Union High School District students at the Ocean Institute for The Ocean Rocks! project.
That day was field trip day — a trip for ninth grade AUHSD students to the Ocean Institute, made possible through a grant to Cal State Fullerton from the California Coastal Commission's Whale Tail Grants Program.
There were several stakeholders involved in this project, all with high hopes for the project. Those involved included the Ocean Institute's Rick Baker, director of education, and his associates Sue Magdziarz, Jonathon Witt and Shanette Rillorta; Don Reid from the school district; and my Cal State Fullerton colleague Victoria Costa, director of science education. We had had numerous collaborative meetings to plan the project.
We even had Cal State Fullerton science education interns Kimberley Deckard and Beverley Berekian involved in the project. Our interns worked hard to develop hands-on, standards-based curriculum for implementation at the Ocean Institute on that day. It was a project that had been painstakingly planned with the intent of passionate execution.
This was the day for me to visit — to see if the efforts of so many would pay off. As students stepped off buses, I heard one proclaim, "This is my first time to the beach!"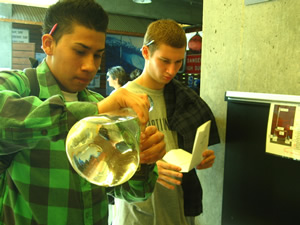 Anaheim Union High School District's ninth grade students participated in hands-on science experiments at the Ocean Institute in Dana Point, thanks to a grant to educate students about earth science.
I filed in after the ninth grade earth and integrated science students and arrived at a table with long, sediment-layered core samples. Students were provided with a clear and detailed explanation of how these samples were acquired and what they could represent in terms of geologic history. Each group of three students then proceeded to piece together the story of their particular core sample.
I watched as Mariel, Diane and Jose discussed, like real scientists, the possible scenarios that formed this sediment column. They worked together to assemble the parts of a puzzle and created a geologic story that they eloquently shared with their peers.
Next, the group investigated salinity and density in order to better understand how polar and equatorial waters move. This newly acquired knowledge was pieced together with information about tectonic movement in a real-life drama of plate movement, current flow, and climate change. It was thrilling to see students using technical and academic vocabulary and inquiry skills to solve problems — just as research oceanographers and geologists do every day.
The culmination of the day was a data-collecting trip aboard the Ocean Institute's research vessel. It was on board the ship that students added analysis and evaluation methodology to their growing bank of science skills.
Finally, it was 3 in the afternoon and I glanced up at the sky to notice that the clouds had broken and sunlight was once again baking Orange County. And, yes, as I had wished for, the Anaheim Union High School District students were boarding buses to head home — with heads full of new knowledge and problem-solving skills and hearts full of accomplishment and pride.
My hopes had been realized.
Maria Grant, associate professor of secondary education and director of the Secondary Teacher Education Program, is spearheading The Ocean Rocks! project funded through a $41,500 grant from the California Coastal Commission's Whale Tail Grants Program. The focus of the marine and coastal education project is to educate high school students about earth science and better prepare teachers to teach science.